Commercial offices are evolving as we speak. The demand for change is being driven by the war for talent as companies look to create engaging workplaces. Jones Lang LaSalle [JLL], a commercial real estate service provider, embraced this shift in the future of work when establishing its new office in Singapore at the impressive Capita Spring building. The project is a step in the longer journey of upgrading JLL's technology across its APAC offices.
The Platinum WELL certified space at CapitaSpring was designed to be "human-centric", with a sense of community and dedicated areas for staff to socialise. Amenities to enhance these spaces include a barista-hosted coffee bar and beer tap that is complementary to all staff.
To build the next generation of offices, JLL wanted to optimise every aspect of their new 23,592 sq ft space to create a groundbreaking human-centric workplace. One of those areas was sound. The sound of workplaces is intrinsically linked to employees' quality of life and yet it is typically the top complaint in offices. The sound of most workplaces is distracting and stressful and impacts employee wellbeing.
KSCAPE's RAIL from K-Array has been installed around the open plan office to provide deep scientific biophilic soundscapes by Moodosnic proven to reduce heart rates and improve creativity, according to the London University.
Moodsonic are pioneers in delivering soundscapes that bring the therapeutic benefits of natural sound indoors. Moodsonic's content is designed for a range of purposes, from focussed soundscapes that improve attention and restoration, through to content for collaboration, comfort or creativity.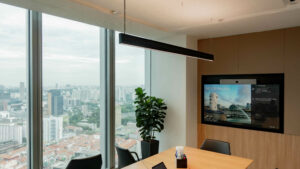 Even the meeting rooms required a human-centric design philosophy. When designing the space JLL wanted to create a minimalist space, decluttered with various technologies and keep it simple for employees to plug-in and go. JLL installed RAIL in six of their meeting rooms. Small meeting rooms included 2x RAIL units connected seamlessly together while the larger rooms used 4x symmetric linear. Every room had RAIL suspended from the ceiling underneath a Shure beam steering microphone. The audio was powered by 1x KA-02 amplifier and 1x KU44 subwoofer for optimised speech performance without noticing there are speakers in the room.
"With RAIL we solved several challenges in one product. It worked very well with the beam steering microphone, and the system can be configured to account for a standing or seated audience. This was perfect for us because we did not want to make meetings any more complicated for users and reduce the clutter of technology you see in many spaces. It also saved on wiring, installing and drafting," said Elvin Foo, Project Manager from Principle One.
Colin Quek, CEO, Loud Technologies, added, "We worked together with KSCAPE and SHURE to find a way to reduce the technology on the ceiling, therefore minimising aesthetic distractions while providing the technology required to deliver an optimum video conferencing performance."
"What we have built in CapitaSpring is the next generation office space," said a pleased Chris Arcibold, Country Manager, JLL Singapore.