Kramer Electronics, the leading audio-visual experiences company, made a big splash at ISE 2023 with a highly interactive and immersive stand. The Tel Aviv-headquartered AV gear major showcased a range of new technologies and solutions at the show while engaging with customers, partners, and visitors.
Kramer CEO Gilad Yron, while detailing the company's initiatives for the year, and beyond, explained the organization's philosophy and vision towards a 'customer-centric' market approach, that is underlined with constant engagement with the industry stakeholders such as consultants, SIs, VARs, and End Users bringing them a new portfolio of Services.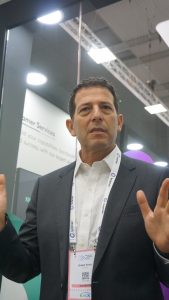 Further, Gilad emphasized the company's focus on IT-centric R&D in terms of its product-solution development. He also underscored the company's mission towards developing solutions that meet almost every need of customers from every segment and verticals. He announced the company's partnerships with industry majors in this pursuit.
The company's new launches included products across all portfolio domains, and in particular new services. The new launches comprised an upgraded version of the VIA platform, Kramer's wireless collaboration and conferencing platform and quicklaunch EDU, a new Education solution.
In addition, a new series of interoperable audio-visual signal management products and the new KDS-100, an open-standard 4K60 AVoIP streaming solution, is introduced at the booth.
More importantly, Kramer CONNECT has new launch extensions with premium USB-C products, and an inaugural range of Services like space design, installation, and technical certification.
The Kramer booth featured interactive, life-size examples of a hybrid classroom, meeting space, coffee bar, and courtroom, fully equipped with Kramer's latest audio-visual developments.
Kramer's partnerships with audio-visual leaders: Kramer made the ISE 2023 as its platform for announcement of new partnerships with three industry leaders: Sennheiser, Samsung, and Yealink. Kramer's alliance with Sennheiser has led to the creation of a premium hybrid teleconferencing solution, based on Sennheiser's Team Connect Ceiling 2 microphone and Kramer's AFM-DSP20-AEC audio matrix switcher.
Meanwhile, Samsung and Kramer have teamed up to enable Kramer's quicklaunch collaboration software to seamlessly work with Samsung's Flip and QMB display series, for immersive smart learning and collaboration experiences in any type of classroom or office meeting space.
Thirdly, Kramer and Yealink have partnered to improve efficiency in meeting spaces by integrating Kramer BRAINware, Kramer VIA Go, Kramer VIA Connect2 and Yealink MVC II room systems. This collaboration gives presenters full control of Microsoft Teams meetings, the sharing of content, and room elements such as lighting and shades, all via a single, easy-to-use touch panel.
"A new year always brings new challenges; bit it also offers new opportunities for innovators like Kramer to introduce solutions that bring exceptional value to systems integrators, AV-IT managers, and end-users, through our all-round, open-ecosystem, consumer-focused approach," said Gilad. "As the end-to-end technology partner for audio-visual experiences, we're well equipped to support customers through the innovative developments continuously impacting organizations worldwide," he said. "After last year's triumphant return of the in-person ISE, I couldn't wait to get back to Barcelona and personally meet the audio-visual consumers that Kramer is working so hard to serve."