HARMAN Professional Solutions introduced its ISE 2023 visitors to a range of innovative, powerful and versatile solutions introduced during the past year.
The new products include JBL Professional SRX900 Powered Line Arrays and Subwoofers; JBL Professional PRX900 Powered Portable PA Systems; JBL Professional VTX A6 Line Array and B15 Subwoofer Touring Audio Solutions; JBL Professional Control Contractor Commercial Loudspeaker Expansion; Martin MAC Aura XIP Indoor/Outdoor Premium Wash Light; Martin Exterior Linear Pro Architectural Lighting Fixtures; AMX Varia Professional-Grade Touch Panels; and AMX Jetpack 3×1 Switching, Transport, and Control Kits.
JBL Professional SRX900 Series Powered Line Arrays & Subwoofers: Includes high-performance, professional dual 6.5-inch and dual 10-inch line arrays and 18-inch and dual 18-inch subwoofers at an affordable price point.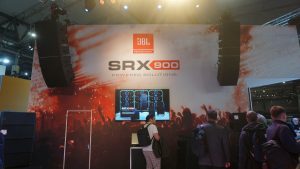 The SRX900 Series' outstanding performance is based on time-tested JBL technologies: Custom-engineered and manufactured, high-power-handling transducers deliver superior fidelity and class-leading output. Precision waveguides provide accurate pattern control for intelligibility and definition that are unmatched in this category. User-configurable DSP and design-and-management software tools provide hands-on control from a computer or mobile device, making design, deployment and control a breeze. SRX900's cabinet architecture is thoughtfully engineered for easy handling, fast rigging, minimal space displacement and streamlined transport.
VTX A6 Line Array & B15 Subwoofer Touring Audio: These products combine JBL's flagship acoustic technologies to compact form factors for small- to medium-sized touring and fixed installations.
Martin MAC Aura XIP Indoor/Outdoor Premium Wash Light: Features a radical aura filament effect, improved light engine control and outdoor rating with close to zero compromises in weight, size and aesthetics.
Martin Exterior Linear Pro Architectural Lighting Fixtures: Outdoor and indoor range of Cove, Graze and Direct View (DV) models in QUAD and CTC light engines and 1-foot and 4-foot lengths.