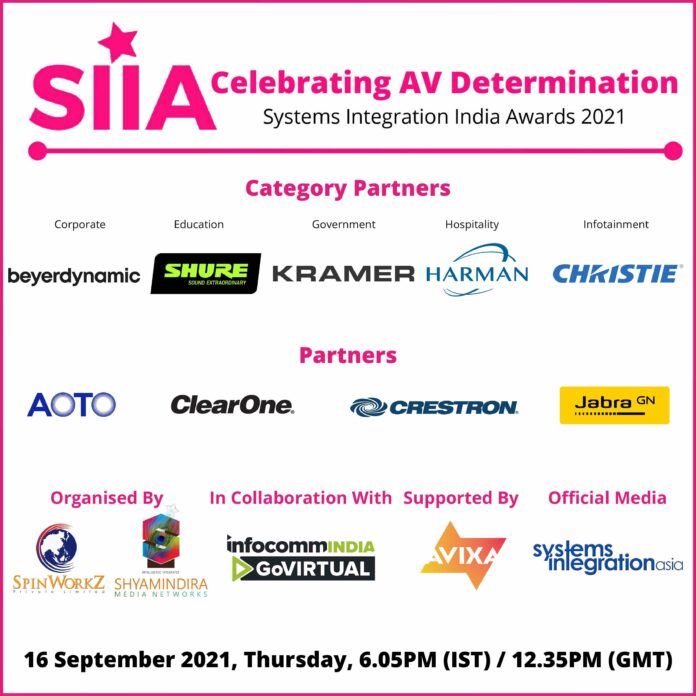 It has been a busy couple of months since the time Spinworkz and Shyamindira Media Networks announced the fourth edition of the Systems Integration India Awards. Though timing for submission was short compared to normal times, there was an impressive 55 projects submitted by 40 companies. All the categories of Corporate, Education, Government, Hospitality and Infotainment saw entries. A number of projects were completed in and around the COVID-19 phase in India.
India was certainly one of the worse hit countries by the virus. It is heartening to see that despite the challenges, the AV Industry in India persevered to deliver the projects to their clients. The SI India Awards theme of Celebrating AV Determination is truly appropriate in these circumstances.
The SI India Awards will be broadcast on 16th September 2021, at 6:05 pm (IST) /12:35 pm (GMT).
Though the Awards is the main component there are two specially produced videos within the broadcast that will resonate with the industry regardless of which country you are based in.
"We had mentioned that this year it is more than just about the Awards – it is about the human spirit and the AV community and we believe our specially produced videos capture that essence. We strongly believe the videos will be something that everyone in the industry can identify with and would like to invite all to view the Awards programme, regardless of where they are based," said Thomas Prakasam, Managing Director, Spinworkz Pte Ltd and co-organiser of the event.
The SIIA Partners for this year are:
Category Partners:
Corporate: beyerdynamic India Pvt Ltd
Education: Shure Audio Technologies Pvt Ltd
Government: Kramer Electronics India Pvt Ltd
Hospitality: Harman International (India) Pvt Ltd
Infotainment: Christie Digital Systems Inc.
Partners:
AOTO, ClearOne, Crestron and Jabra
Organised By: Spinworkz Pte Ltd and Shyamindira Media Networks Pvt Ltd
In Collaboration With: InfoComm India GoVirtual
Supported By: AVIXA
To register to view the Awards Programme please click HERE.