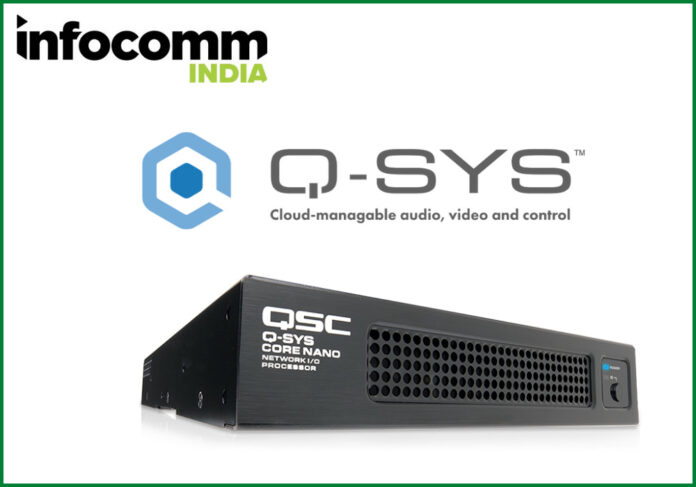 Q-SYS will showcase the Q-SYS Core Nano at InfoComm India, held from 5 – 7 September in Mumbai, India.
The Q-SYS Core Nano can be used for your audio, video and control processing needs. Built on the same foundational technology as the rest of the Q-SYS processor portfolio, the Core Nano is designed for applications with lower network channel capacity and/or targeted processing requirements. You can unlock its full potential with Q-SYS Scaling licenses to better accommodate needs of specific applications or utilize the QIO Series for applications that need additional network I/O connectivity.
The Core Nano offers a purely network AV&C processing and can process and route up to 64×64 network channels and include 8 x 8 channels of software-based Dante (with the option to license up 32 x 32 Dante channels). Optimized for collaboration spaces, the Core Nano features USB integration with all major web conferencing applications, 8 channels of acoustic echo cancellation (AEC) and a full featured control engine for third-party device integration.
Ultimately, these new Q-SYS processors allow you to rightsize your investment (allowing for less waste) without compromising on functionality. Like all Q-SYS Cores, the Core Nano delivers the same features and functionality at the software level and operate on the same design software as the rest of the Q-SYS processing portfolio.
To know more visit Q-SYS at InfoComm India Booth Number C20.