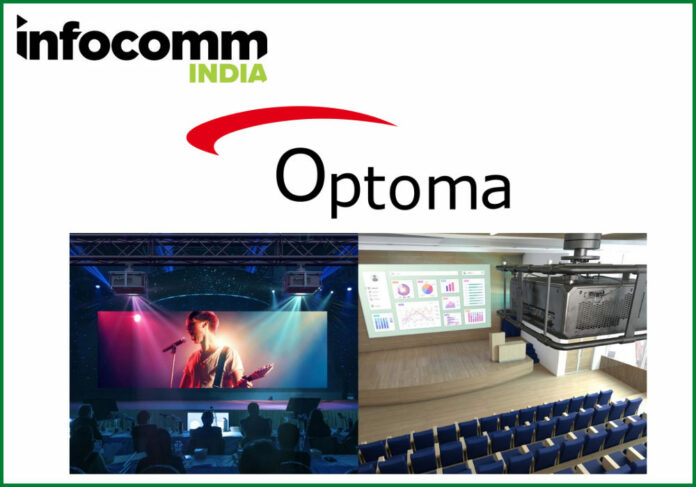 Optoma will showcase its ZU2200 Installation projector at InfoComm India, held from 5 – 7 September in Mumbai, India.
ZU2200 is a high brightness professional laser projector, filling the need for high-end installations, including the entertainment, exhibition, and digital signage markets. At 22000 lumens this projector establishes an incredibly high brightness benchmark to the category, as well as extreme flexibility with eight interchangeable lenses to meet the needs of even the most complex installations.
As part of Optoma's DuraCore laser line up, the ZU2200 Ultra Bright Series high-performance projectors feature 4K HDR compatibility, pure engine video processing and colour matching to produce visually striking, lifelike images with exceptional detail and high colour accuracy. This product also have Optoma's Visual Suite** software, along with an integrated camera, creating seamless setups with automatic image adjustments, warping, and calibration for consistently bright and uniformed images every time while reducing installation hours.
Strong reliability is at the core of Optoma's ZU2200, with 24/7 operation capabilities, up to 30,000 hours of laser lifetime, and an IP6X rating for optimal and dependable performance, even under most extreme conditions. With a robust metal chassis and modular design for easier maintenance, a multitude of connectivity options, and failsafe redundancy mode for instant source switching, the ZU2200 projectors offer a solution for intricate installations, including multi-projector and dome projection applications.
Additional specifications include:
* Resolution: 1920 x 1200 WUXGA *4K HDR compatibility *Contrast: 2,000,000:1 *Laser Lifetime: 30,000 hours *Eight interchangeable lenses, ranging from short throw to long throw ratios (0.65 – 10.8:1) *Visual Suite software: built-in image blending and warping *Horizontal and vertical lens shift *Redundant input with fast switch support
To know more visit Optoma at InfoComm India at Booth C40.