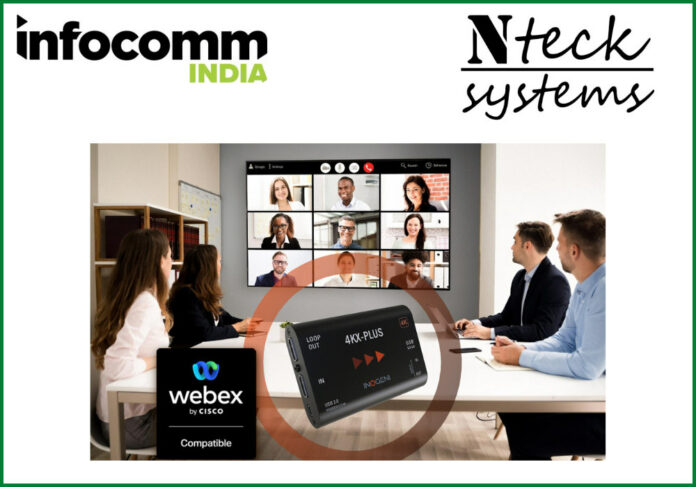 Nteck will showcase Inogeni's 4KX-PLUS video and audio capture and convertor device at InfoComm India, held from 5 – 7 September in Mumbai, India.
The 4KX-PLUS converts Ultra HD to USB 3.0 with an HDMI loop and external power for BYOM applications. It connects your HDMI cameras, video sources or CODECs to your laptop.
Configure your Cisco conferencing software to use USB cameras and microphones. Activate 'Enable USB mode' on the Touch 10. It works with any virtual meeting room software that enables USB cameras and microphones, such as Microsoft Teams, Zoom, Google Meet or BlueJeans and is compatible with USB 2.0 (high quality MJPEG) The 4KX-PLUS with Cisco Devices enable multiple displays. The external power supply maintains the connection between the Cisco Webex CODEC and the 2nd display, even if the laptop is not connected to the 4KX-PLUS.
The 4KX-PLUS captures uncompressed HDMI video and audio from Webex devices, which then converts it to USB 3.0 for a third-party laptop. It offers direct integration of Cisco room equipment (camera, audio and screens) that solves interoperability issues. Users can optimize their assets and avoid additional license fees for Cloud Video Interop (CVI) service and user management by integrating the 4KX-PLUS. No driver is required and the solution is compatible with Windows, macOS and Linux laptops.
To know more visit Nteck Systems at Booth F75.