In June, Humeng Energy Industry Co., Ltd. in Inner Mongolia invested a 16K ultra-high-definition screen with an area of 25m*3.7m for its multifunctional conference room. This super-large screen made by INFiLED was used to communicate important multimedia information to conferees when the enterprise holds large-scale activities.
In concrete terms, the screen was mainly applied in two aspects.
For one, due to its active business, Humeng Energy Industry Co., Ltd. often held various project signing activities with other enterprises in its conference room. These activities involve presenting project outlines to important clients in the form of videos and pictures, while the INFiLED screen with excellent picture quality was just right for such commercial presentations.
The screen installed in the conference room adopted the WP series, with a pixel pitch of merely 1.56mm, and a high refresh rate of 3840Hz, performing outstandingly in content presentation. Besides, the screen also featured an ultra-thin edge thickness of 29.5mm and was mounted seamlessly inside the wall, its modern and generous appearance greatly helped to leave an impression on the visiting clients.
In addition to being used for external cooperation activities, the INFiLED screen was also applied for conferences within the Humeng Energy Industry Co., Ltd. Since the conferences sometimes involve hundreds of attendees, having a huge screen as a presentation companion allowed speakers to illustrate their presentation more vividly, and meantime ensured key messages were accurately conveyed to all attendees.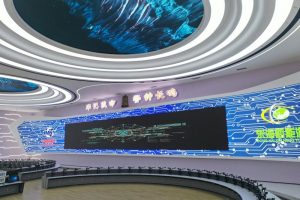 In terms of display parameters, the WP series screen had a 14-bit grayscale and a contrast ratio of 5000:1, which was enough to vibrantly present various presentations with crisp images and cinema-like levels of colours; moreover, it also had a calibrated brightness of 1000nits, and 160-degree horizontal and vertical viewing angles, which made it easy for everyone in the conference room to see the on-screen content.
About INFiLED WP series
WP series is INFiLED's flagship high-resolution digital LED display. With a panel ratio of 16:9 and pixel pitch ranging from 0.9mm to 3.1mm, configurations of Full HD, 4K, and 8K resolution displays can be easily achieved. This series has an ultra-thin edge thickness of 29.5mm and a slim mounting bracket, which is only 37mm thick after installation, effectively saving indoor environment space. Besides, it supports front maintenance and is equipped with an innovative vacuum extraction tool to prevent damage to the LEDs during maintenance.