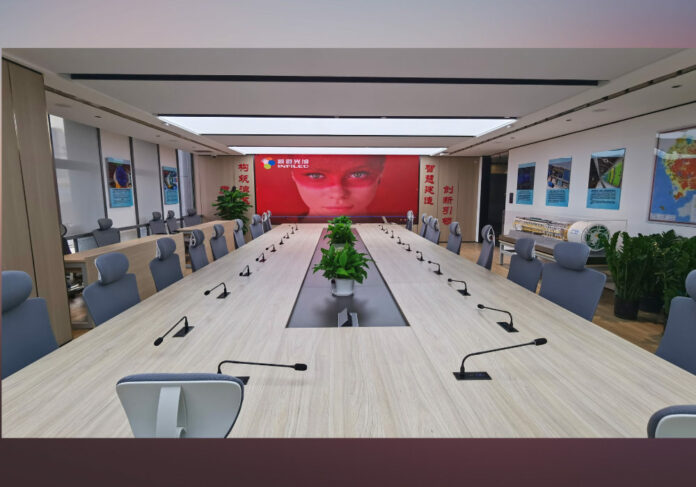 In April, the LED screen furnished by Shenzhen Metro Group for its conference room officially came into service. The screen adopts the QM series from INFiLED, with a size of 4800*2025mm, which is appropriate for multiple purposes including conferences and project presentations.
Before installing the screen, INFiLED comprehensively learned about the requirements of the Shenzhen Metro Group. Out of consideration for the quality of internal meetings, this corporation dedicated to the construction of urban rail transit expected the screen to be large enough to keep all attendees informed of key messages. Besides, as it has a wide scope of business, to introduce and share its business to visiting clients in an even better fashion, the screen image quality is also required to be excellent.
Taking into account both visual estheticism and communicating information, the LED screen in the conference room can be as large as possible and rest flush against the wall to minimize the space occupied in the room. To this extent, INFiLED's QM series is just an ideal display solution for such an indoor scene. The dimension of its cabinet is 600*337.5*29.5mm, which can create a large indoor screen without too much splicing and be mounted seamlessly into the wall.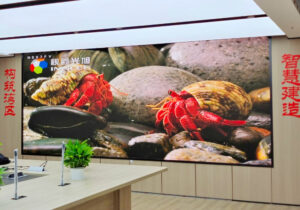 In addition to the generous and concise shape, the INFiLED screen also performs well in terms of picture display. It adopts IMD encapsulation technology to present smooth and bright colours and has a pixel pitch of 1.25mm to ensure a high-definition display. At conferences, presenters can narrate the content while showing the corresponding demonstration through the excellent screen, allowing attendees to easily comprehend content information and engage in the conference.
For corporations, another essential usage of possessing an excellent indoor screen is to promote their brand persona. The QM series applied by Shenzhen Metro Group has a high refresh rate of 3840Hz and a captivating brightness of 600nits, the picture effect is impressive whether it's displaying dynamic pictures or statical graphics. Undoubtedly, presenting the corporation's best project works on the attractive screen made of this series is going to leave a better impression on the visiting clients.
About INFiLED QM series
QM series is INFiLED's most remarkable fine pixel pitch LED display, it adopts the most advanced IMD&COB encapsulation technology. The panel has a long lifespan with sophisticated fine pixel pitch. Features a wide colour gamut, high brightness, and high contrast ratio of up to 20000:1. QM series can offer an exquisite and vivid picture with vibrant colour and rich detail. It is the best solution for a range of indoor applications including conferences, control & command centres, studios, schools, and digital showrooms.