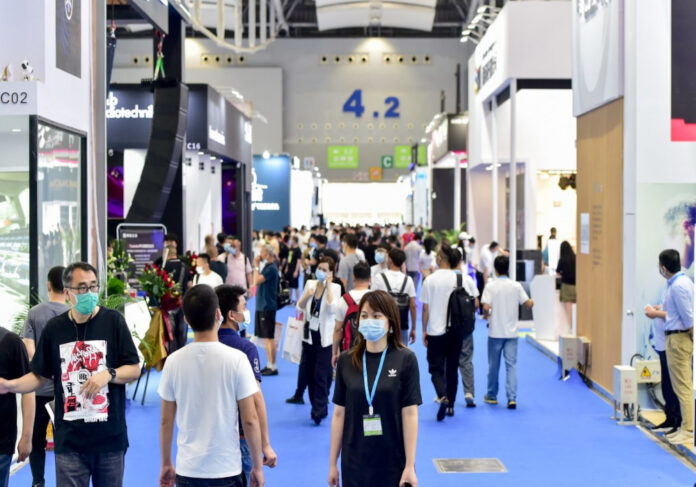 Held from 16 – 19 May in Areas A & B of the China Import and Export Fair Complex, Prolight + Sound Guangzhou (PLSG) recently concluded its largest edition yet with 82,740 visitors in attendance. Industry peers were delighted to once again gather at the physical fair to make face-to-face business connections and discover the latest products and innovations across 150,000 sqm of exhibition space, including 15 thematic halls and three newly introduced "Immersive Experience Zones".
The 19th edition achieved a record turnout of 1,386 exhibitors, with a variety of prestigious brands represented on the show floor. The impressive line-up once again reflected that the Chinese entertainment and pro AV market remains strong and full of potential, with opportunities emerging across various new vertical markets.
"Tech meets culture" continues to gain attention
2021 was a year of many firsts for PLSG, with the organisers introducing three new "Immersive Experience Zones" in Halls 12.2 and 13.2 to demonstrate how lighting, sound technologies, stage machinery and digital media can be deployed in cultural and entertainment venues.
Hongbo Jiang, Director of the Guangdong International Science and Technology Cooperation Centre, was delighted with the outcome: "We are thrilled to see the enthusiastic response to the new show elements focusing on digitalisation, system integration and media integration, which reflect the growing popularity of the 'Tech meets culture' concept. The huge success of this year's show has validated our decision to expand the exhibition area,
and there are many positive signs that the entertainment technology industry in China has returned to a positive trajectory. Digitalisation will continue to be the focus for our upcoming editions."
Comprehensive online + offline channels help participants stay tuned with the industry
Both exhibitors and buyers benefitted from the newly launched "PLSG21: Live and Online" digital platform which ran in tandem with the physical fair to create business opportunities both online and at the fairground in Guangzhou. As part of the initiative, the organisers cooperated with renowned industry media HC360.com and Mega Stage to provide live
coverage of the exhibition including seminars, onsite activities and interviews with company representatives.
Commenting on the new digital offerings, Richard Li, General Manager of Messe Frankfurt (Shanghai) Co Ltd, said: "Using online tools is the best way to empower remote participants to become part of the show, and the widespread engagement from buyers around the world through our new "PLSG21: Live and online" platform has been extremely pleasing to see. We hope to welcome overseas buyers back to the fairground in person at next year's event, but under the new normal, we will continue to allocate more resources towards digital tools."
PLSG Annual Training Course continued its successful run
This year's fringe programme had something in store for visitors from all corners of the industry. With seminar and training themes aligned and located according to the hall arrangements, visitors could source, create business connections and learn about the latest technical trends with ease.
Many new topics and applications were covered this year, including AVoIP, conferencing systems, Dante networking technology, Depence² application, lighting control, lighting design, live event planning and live sound systems, just to name a few.
Discussing the fringe programme,Holden Guo, System Engineer Manager of SDVoE China, Netgear commented: "The PLSG Annual Training Course is very important because nowadays everyone is transferring from traditional hardware platforms to software platforms. To make progress, I think it is essential to help more front-line users understand the concepts and applications through these seminars. I think China has the largest pro AV market in the world, and there is potential for many new opportunities to emerge. It's important to foster collaboration between different suppliers and across platforms to cultivate even more product ideas. The 'Internet of Things (IoT)' connects everything audio and video related, and this segment of the digital ecosphere keeps growing, so we are still very optimistic about the potential in the pro AV market."
Further information about "PLSG21: Live and Online" can be found HERE.
The next edition will take place from 25 – 28 February 2022.