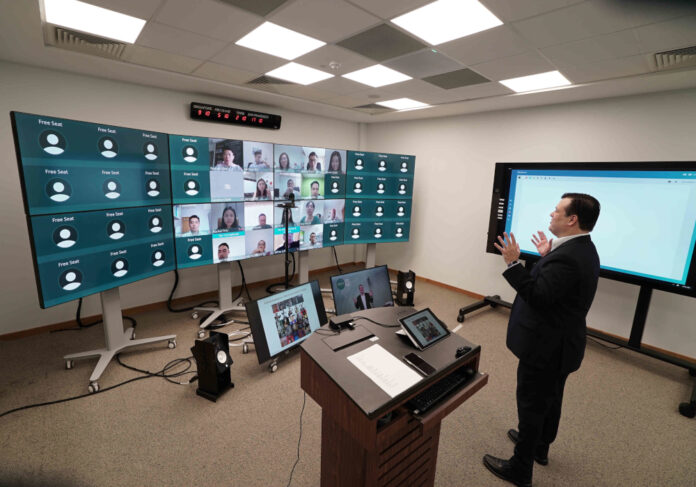 The move to tech-enabled management education has been a logical progression for INSEAD. "We pioneered the adaptation of asynchronous virtual courses to a customised corporate context," according to Peter Zemsky, Deputy Dean, Dean of Innovation, Professor of Strategy & Innovation. "This is the moment for virtual executive education to go live."
With GO-Live powered by weConnect, the multi-campus institution has taken a distinctive approach to live virtual teaching, following two broad principles. The first is being learner-centric. "You want to keep the learner empowered, active and engaged so that they're immersed in the experience, just as if they were there face-to-face," says Zemsky. "The other key principle is to allow faculty to bring their deep skills of creating magic in the classroom from a face-to-face world to a live virtual setting."
Results that "could not be achieved in a traditional classroom"
Professor of entrepreneurship Philip Anderson zooms in on one element that is key to weConnect. "Let's say it's a classroom and I ask a question," he says. "One person answers and that's two minutes and then I call on somebody else and that's two minutes. Maybe I call in a third person. That's six minutes for three people." With weConnect, you can get every single person to contribute in less than two minutes. "Instead of just focusing on, 'Do I like what Felicity said or do I disagree?' I can look at what everybody said and say, 'Is there a pattern here?' And that's really not possible in anything but an online environment."
Marc Remond, Vice President of Meeting and Learning Experiences, Barco APAC said: "The competition in the education sector in Singapore has tremendously intensified. With the Pandemic, online education is now truly global. Unable to travel, students can join any program from their home. It is vital for universities, business schools and training institutes to now embrace digital platforms that are built for teaching and learning, and not for virtual meetings. Solutions like Barco weConnect help improve student participation, collaboration and engagement regardless of whether the class is virtual, hybrid or traditional with all students on site. For instance, INSEAD recognised the need to enable interactive and productive learning experiences online very early on. By adding such new digital capability to support its future growth, the leading global business school has gained a significant competitive edge while improving the online teaching and learning experience for both educators and students".
The demands of the digital world are changing learning
With the fast pace of technology advancements changing fundamentally the way we live, work and learn, organisations are realising they must shift their approach towards digital transformation when it comes to teaching and training.
Barco recently reinforced its commitment to customers with an added enhanced breakout rooms feature designed to weConnect for high-quality interaction and engagement. The new feature will ensure that the instructors stay fully connected to their audience while keeping a steady flow for the session and the learners can freely collaborate and access shared breakout content, as well as content from the main session. Learners can ask questions, chat with peers, answer polls and quizzes, draw or add pins to the whiteboard. The feature also allows on-demand access after the live session ends helping instructors to optimise future classes and learning outcomes based on the user analytics on participants´ engagement.