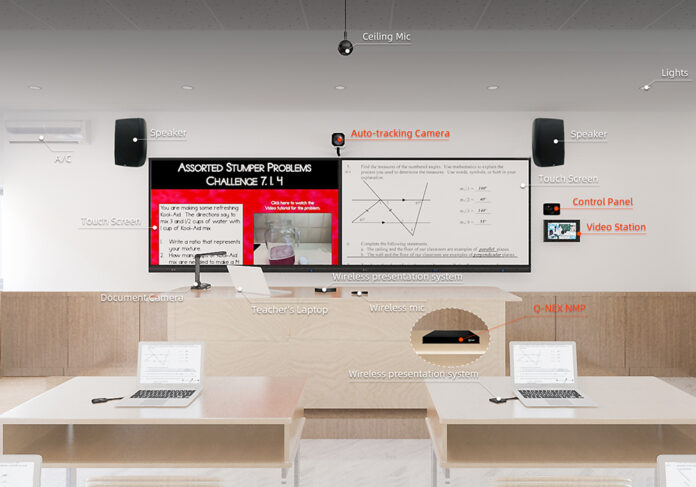 In such an era of high efficiency, the need to build and develop smart workplaces is a priority for many industries with the latest technologies enabling businesses to boost organizational productivity, increase operational efficiency and provide a better user experience.
The Q-NEX (IQBoard) team encountered a case recently. The project is in relation to Scud Group, a company with thousands of employees. It has big requirements for staff training, especially technical training for workers on the production line. The issue was how to create a smart teaching environment in a training room and involve trainees who are present and absent (due to the limited training room size, most of the trainees have to study online)? And if there was an easier way to manage all the devices in a room? These issues are what Q-NEX confronted in this project and had to figure a way out.
Transformation begins here.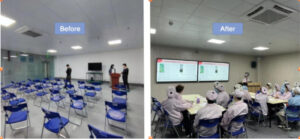 Aided by the Q-NEX Lecture Capture Room Solution, transforming the traditional training room that depends on physical whiteboards, pens and erasers into a smart one. The new training room empowers presenting technical knowledge and resource access on a large screen, offering online and offline blended training mode and centralized control system to manage the devices in the room.
First, Q-NEX set up an audio and video system in the large training room with two IQTouch interactive displays and IQSound speakers. Q-NEX provided a professional AV system for high-quality audio-visual performance and dual displays for maximizing visibility. Not only that, interactive displays enable free annotation, built-in whiteboard, wireless screen share for collaborating with multiple ideas, easier operation, and access to rich resources, which greatly enhances the training presentation. But how can the AV system and multiple complex devices in the training room be controlled centrally and conveniently?
There Q-NEX Networked Media Processor (NMP) were deployed to connect all the devices in the room, including lights and air-conditioner, to the highly integrated NMP which adopts cloud computing technologies for centralized device management. The devices in the training room can be controlled remotely and uniformly for powering on/off, scheduled tasks setting for unmanned operation, cloud storage, AV distribution etc, through the web-based platform Q-NEX Console and mobile App. It greatly reduces human resources and room management becomes simple and controllable.
In addition, by installing a lecture capture system in the training room, lecturing contents and views of lecturer and trainees can be recorded and uploaded to an FTP server, or live streaming of the lecture can be pushed to a cloud-based video platform, such as YouTube. The workers can watch live training anywhere as long as the Internet is available. Trainees who missed the session can consolidate knowledge by playback of recorded training videos to keep pace with the other learners.
Today, our expectations for a smart environment are getting higher that more various devices and complex technologies are involved. How to meet the diversified needs of smart rooms? Q-NEX solution strives for helping enterprises and educational institutions manage multimedia devices with great convenience and high efficiency.