Azadi ka Amrit Mahotsav – while it's been a grand celebration of pride and prestige – has also come to bring many a boon for audio-visual industry. As the mega celebrations this year coincided with 125th Birth Anniversary of Netaji Subhash Chandra Bose, a huge hologram statue of the revered leader was unveiled at the India Gate in New Delhi on Sunday evening by the Prime Minister Narendra Modi.
Digital Projection (India) had this rarest of the honours to have powered the hologram projection.
……………………………………………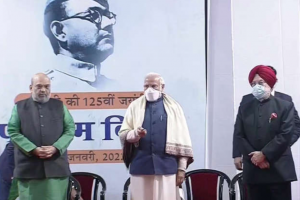 When Prime Minister Narendra Modi unveiled the hologram statue of Netaji Subhas Chandra Bose at the India Gate in New Delhi on Sunday evening, on the occasion of his 125th Birth Anniversary, it not only meant a nation paying tribute to the Founder of Azad Hind Fauj, but also meant some hard work and a genius technology play- by the country's audio-visual industry stakeholders.
The honours of projecting the hologram statue as well as the walls of India Gate went to Digital Projection, a Delta Displays-owned projection brand.
Prime Minister Modi inaugurated the statue hologram – under cupola where the statue of British monarch King George V once stood – via a remote control meant for the operation.  The King George V statue was removed in 1968 from the place.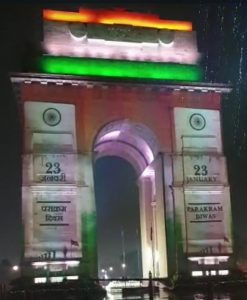 The 28 x 6 feet statue is powered by Titan Laser 33000 4K-UHD projectors for the holographic image, while DPI's M-Vision 21000 WU single-chip DLP laser projectors are roped in for the projection on the India Gate.
An invisible, high gain, 90 per cent transparent holographic screen has been erected in such a way that it is not visible to visitors, and the 3D image of Netaji was projected on it to create the effect of a hologram.
The statue will exist till a same size statue made of granite is installed in its place in the months to come by. According to sources, it was originally intended to have the stone statue by this January 23 itself, however, sensing delays in getting the statue ready the authorities have ideated for the hologram statue, and expedited its implementation.
Advantage DPI.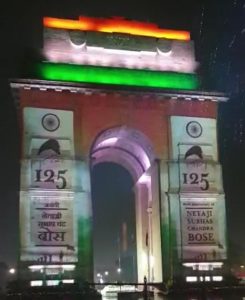 One of the largest holograms in the world to install, sources say, it was highly challenging to install that huge statue as it involved mounting a 40-feet holographic screen inside the canopy. That, without taking support from the structure, and, without making it visible to the human eye.
More, because the hologram will be there until the granite statue is built, the screen should be able to withstand high winds and rain and remain stable in all weather conditions.
A happy occasion for the nation, and the industry, a 'tall' exploit in AV technology came to life.
A youtube video – courtesy Press Information Bureau – of the Prime Minister Narendra Modi unveiling the hologram statue via remote control can be seen here: https://youtu.be/F-tjtEy0Xls