"With the event and entertainment industry ramping back up at breakneck speed post-pandemic, the HARMAN Connect Day 2023 in Jakarta is the perfect time to showcase our solutions for sectors such as Hospitality (AVL), Touring and Corporate," said Amar Subash, vice president and managing director of HARMAN Professional, Asia-Pacific and India.
The first HARMAN Connect Day of 2023 kicked off at the Pullman Hotel, Central Park, on 9th March. The event welcomed hundreds of guests representing dealers and system integrators that offer solutions for professional audio, video and lighting systems in Indonesia. Highlights of the event included the official launch of the JBL SRX900 series of line array loudspeakers and the debut of the next generation of AMX video and control products.
"Southeast Asia is a very important market for HARMAN Professional and Indonesia is at the core of our strategy. This event showed once again HARMAN's commitment to our customers in this market. It is clear that there is an appetite for our brands and solutions, and this event was a fantastic opportunity to further engage with customers in Indonesia," HARMAN's Channel Sales director for Asia-Pacific, Nick Screen.
HARMAN are already well established in Indonesia and there is a growing list of iconic projects. These include the luxurious Langham Hotel Jakarta boasting a premium audio system comprising JBL loudspeakers, Crown amplifiers and BSS signal processing products and the illumination of the Garuda Wishnu Kencana statue in Bali with Martin Professional architectural lights.
Indonesia is set to grow exponentially. In the MICE sector alone, revenue in the event tickets segment is projected to reach US$306.1 million in 2023. Further revenue growth of 6.9% is predicted for 2024. As the world returns to normal after the pandemic, the tourism and entertainment sectors are also steadily recovering.
Product Strategy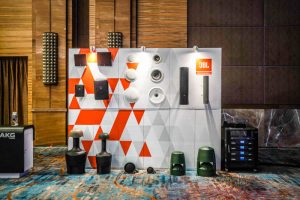 HARMAN has a rich history of innovation across the entire brand portfolio. Maintaining investment in research & development remained a focus for the company even amidst a pandemic. The results are clear, with HARMAN refreshing core sections of its professional products portfolio over the past two years. The global manufacturer of leading brands launched the next generation of its two largest product families in the JBL professional portable PA category, the EON700 Series and the PRX900 Series. For its Tour & Performance Audio category, HARMAN introduced the JBL SRX900, which sees JBL enter a new segment of the line array market, and the JBL VTX-A6/B15 line array speakers. These launches were timely, coinciding with the return of theatre, concerts and other live performances. The Install category also saw eight new models being added to the Control Contractor commercial loudspeaker portfolio, including wall-mounted speakers, pendant speakers, landscape speakers and subwoofers.
Towards the second half of 2022, HARMAN turned its attention to the AMX brand, currently celebrating its 40th anniversary, with several new launches, including AMX Jetpack, an all-in-one AV switching, transport and control solution, as well as a stunning new line of touch panels called Varia. And it didn't stop there. Its latest offering comes in the form of 4K60 AV Encoders and Decoders, the SVSI N2600 series, designed for transmitting live video and detailed content within classrooms, convention centres, courtrooms and corporate meeting spaces.
The Five-Year Strategy
HARMAN's ambitious five-year plan aims to expand brand coverage across the archipelago, identify gaps and, together with local distributors, bring the brand's portfolio of new products and technologies to untapped cities and markets, further unlocking their potential. There are also plans to grow the local Indonesian sales team to ensure service and support standards remain paramount for partners & customers.
Amar added: "HARMAN is committed to growing our business in the Indonesian Market. During the pandemic, we added an in-country resource and focused on training our partners. We now have a SOLID distribution coverage and dedicated system Integrator network supporting our products & solutions to take on both small and large projects."