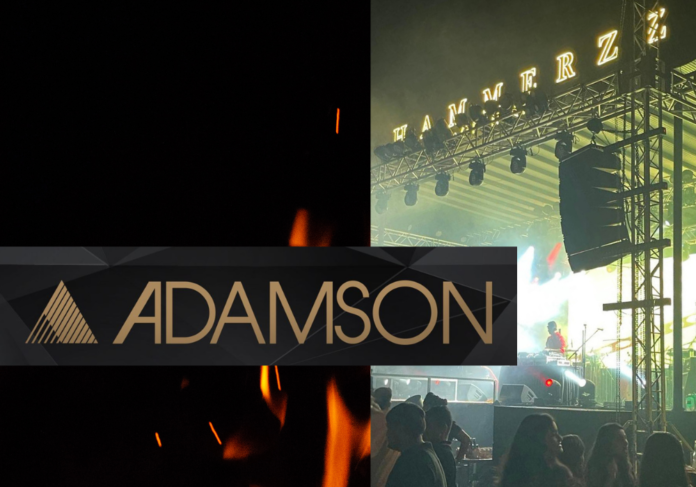 One of the new, and fanciest additions to Goa's ever bustling nightlife and live entertainment scene in recent times has been the Hammerzz Open Air – an offshoot of the immensely popular Hammerzz Luxury Nightclub that has come to assert itself as the beach-side State's preeminent party destinations.
………………………………………………
Asserted by the venue's management as "one of the best open-air nightclubs In Goa" – Hammerzzz Open Air Club perfectly complements its 'big brother' while maintaining its own individuality, as it offers an international open air experience through a unique ambience that has been described as a tasteful confluence of nightlife and nature.
The venue houses a plush performance stage that exudes a true feeling of a concert style setup, with the audience experience further heightened through venue's enchanting soundscape, which is delivered through a powerful and adept audio architecture from Adamson.
The management desired a flexible and versatile system that could do justice to the concert style design of the venue, while assuring a consistent high-quality sound experience with ample headroom to ably support a vast range of music genres and also allow for containment of sound pressure levels within the space without compromising on clarity or quality.
Designed in accordance with this vision, system integrators Advanced Integration Technologies worked together with Adamson's Indian distributor Stagemix Technologies LLP to commission Hammerzz Open Air with 12 units of the Adamson S10 two-way full range line array modules flown in L-R configuration of six modules each on either side of the stage.
Additionally, a total of six units of the Adamson E219 subwoofers have been ground stacked (three on either side of the stage) to offer impactful low frequency fidelity that perfectly complements the crisp high and mid frequency delivery of the S10s. The entire loudspeaker system is powered through four units of Lab.gruppen PLM20K44 power amplifiers.
Speaking about the system, Karan Nagpal of Stagemix Technologies shares, "Hammerzz Open Air offers a truly one-of-a-kind concert experience, as the Adamson system installed there offers high output power and dynamic range with great coverage and directional control, thereby allowing every seat in the venue to experience the subtlest nuances of a performance. Since it is an open air venue, proper coverage and spill out was a concern.
The Adamson S10 solves the problem of having consistent coverage and excellent power out of a sub-compact system. Traditional 2-way line array designs fail to provide an even horizontal coverage in the mid-range, which is where Adamson's designed patent-pending 'Controlled Summation Technology' comes into play. By eliminating the interference associated with multiple-source summation at the pass-band, these speakers allow for seamless coverage, without sacrificing power and flexibility.
The speakers are very directional and critically optimized to delivery efficiency without sacrificing high frequency presence in the far field, enabling it to provide greater coverage by deploying fairly less speaker units. The E219 Subwoofer on the other hand, employs dual 5″ voice coils for exceptional power handling, with a dual-spider suspension system for extra stability even under extreme excursion. Mounted in an ultra-efficient front-loaded enclosure, they are designed to reproduce clean, musical low frequency information.
The perfect amalgam of the S10s and E219s allows the system to maintain consistent high-quality tonal delivery no matter the volume, which is what makes this a perfect fit for a premium venue like Hammerzz Open Air."
Karan affirms that the management at Hammerzz Open Air is extremely pleased with the response that the venue has received thus far, as they emphasize heaps of praise for the soundscape.
Endorses Yatin Sharma, CEO of Hammerzz Open Air: "The system has remarkable control, and sounds much bigger than its size. It sounds great with everything while maintaining impeccable clarity. Very impressed with the result, our venue sounds amazing. Guests and artists alike are in love with it."
https://www.adamsonsystems.com/