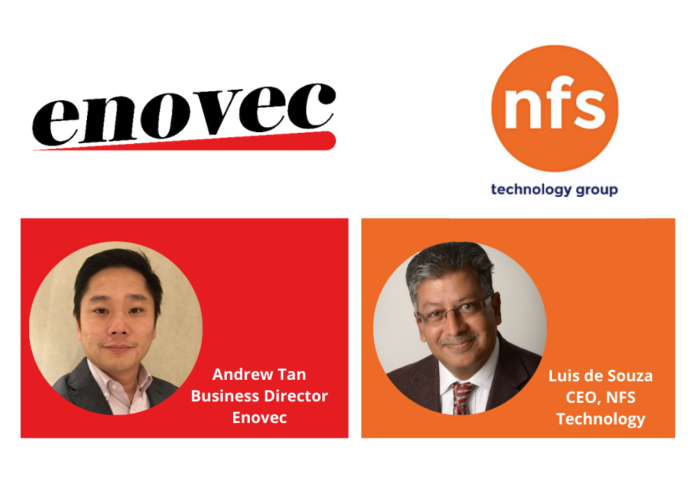 Enovec Pte Ltd is proud to announce an exclusive SEA partnership with NFS Technology, United Kingdom, for The Rendezvous system. This strategic partnership will strengthen Enovec's current position of being a meeting space specialist into a digital workspace consultant as they provide an end-to-end workspace experience in conjunction with Unified Communications.
The Rendezvous is a workspace planner for effective office space planning, meeting room bookings and safe hot desking allocations. With the accelerated trend of hot desking propelled by the effects of work-from-home through this pandemic period, it is only a matter of time before hot desking becomes a normal. Enovec is hence proud to announce absolute readiness for such deployment.
"It is no surprise that companies have found a resolution to the pandemic challenges and putting measures to work. With refining, rethinking, and sharing of best practices, we are going to see businesses with the new usual. Cost and safety are the two top priorities and that is what the Rendezvous targets on resolving – a greater TCO while protecting employees with safe distancing measures with a unique twist of catering options," says Andrew Tan, Business Director, Enovec.
Enovec, as a strong contender of corporate unified communications, will now lead NFS Technology to penetrate the Southeast Asia market, adding on to their existing secured accounts across Europe, United States of America, South Africa, and New Zealand.
"Once the threat of COVID-19 subsides, the business world that will emerge will be different from the one that preceded it. Reducing office footprint and agile working will be the new business drivers. NFS Technology will launch a high-intensity communication programme highlighting the core competencies, leadership status and, the unique technology solutions that the company offers to its clients. We have engaged Enovec because the firm represents our core values and understands our aspirations as unified with their own," says Luis de Souza, CEO, NFS Technology.
The benefits of this new partnership include:
• Enabling seamless integration of unified communications with workspace planning
• Reduce workspace anxiety of hotdesking through the ability to locate co-workers
• Safe distancing desk booking with convenience via mobile application
• Enabling absolute convenience to meeting room bookings via own devices
• Enable cost savings for employers
Interested to know more about Rendezvous and how Enovec can help? Sign up HERE.