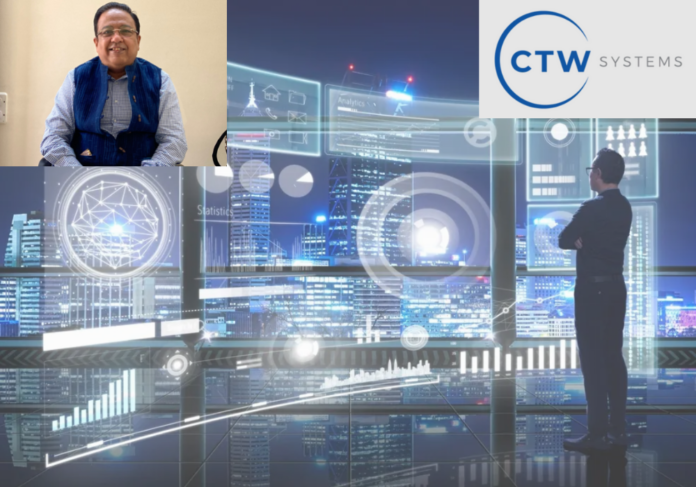 CTW Systems – a self-explanatory term standing for Cognition Technology Work – is a new technology enabler to the fore. Shyl Kumar Balu, a very familiar name in Indian AV, heading the initiative says it's the right setting and footing for the initiative in the current juncture of the industry.
SIAsia caught up with SKB – as Balu is fondly called by the industry ranks – to know what exactly is his ideation, and the new entity would be all about.
……………………………………………..
SIAsia: What was your motivation for the CTW Systems? 
SKB: Fortunately, I had been part of the audio-visual industry from its very evolutionary days. In what I see like a lifetime involvement, I saw the industry grow from strength to strength through subsequent times and phases, spreading both vertically and horizontally. Gladly again, I had my involvement in almost all the application areas of AV as we see it today.
For a few years now, we have been hearing about 'smart appliances,' 'smart systems,' 'smart building' and 'smart living,' etc. where the new thinking and application of building technology solutions is taking centre-stage. However, it is still in an early stage of its evolution, and promises a tremendous potential. I chose to be part of this new technology trait, and bring value the best way I see it. It's truly exciting- the way future appears, and the way I can be part of it.
SIAsia: What exactly is the objective?
SKB: CTW stands for Cognition, Technology and Work. I believe it's self-explanatory. It's about being able to perceive the situation requirement; visualize the technology solution, and its application; and deploy, and make it work.
As we can see and understand, offices of the coming times would use advancements in technologies that will evolve from replacing physical work to replacing cognitive work by means of futuristic technologies like artificial intelligence and machine learning.
In essence, most offices would be 'smart-offices' with a very strong software intervention, and enabling all that will be the objective of CTW. The promise is as vast as the field, and one's imagination.
SIAsia: What competencies have you built into it? and, what competencies does the initiative will bring to Indian AV?
SKB: Audio-visual domain activity has generically, and traditionally, been largely on closed spaces- all working in silos, and addressing productivity related needs. CTW will focus on something much wider, a building-level solution that not only optimizes building resources while working on real-time data, but also contributes to improving user/tenant experiences.
SIAsia: Industry has known you from the 'InFocus-in-India' days. How would you describe the journey thus far?
SKB: It feels like a fulfilling journey. Exciting, challenging, energizing and all. Challenging, of course, in the initial days- quite understandably, because selling anything in a price-sensitive market is always tough, and projectors were considered 'very expensive' by the buyers, and volumes were also low. It took over two years for me, and my team, to make companies understand and appreciate how helpful the projectors would be to their presentations- let alone the experiences they would create.
The volumes were very slowly in the beginning but once the market realized the value, they quickly gathered momentum and became a standard for conference rooms. In the year 2000, we could see integration with audio devices, and solutions like those Crestron characterized. Once the experiences were realized, that brought a great excitement that continued to evolve from level to level, and you know what it is today.
It gives me immense satisfaction that I had been part of this evolution from its very early stages to its near maturity, and now it is expanding to allied areas which are even vast with AV being a major package in every business space.
SIAsia: What would you recall as the memorable milestones that made your career or profession per se?
SKB: There can be many. But to recall a few, the first major milestone development would be one that shaped around 2004- when organizations began asking for controlling various devices in a room, as also across various rooms. That is when the control automation emerged, and integration of devices became a de facto standard.
Then came the video-conferencing, and by 2007, it began assuming pervasive proportions. Project values began scaling up dramatically, and we could see the emergence of many AVSIs taking shape even as they contributed to shaping the industry to a higher quality standing.
In 2006, we executed a project worth over ₹ 10 crore (over US$1.3 million) for a customer in Pune. It was a large and complex project by the standards of the time, and we learnt a lot from it in that it had a very vast and diverse spectrum of OEMs from across the world; they brought in so many things that were new to the domestic industry. Working in close association with the OEMs concerned, we ensured we did a high quality world class install. The customer highly commended the effort, and it sort of heralded a new trend in the industry.
There have been a few others as well in subsequent years, nothing up higher credentials and experiences.
SIAsia: What have been your most testing challenges? How did you endure them? please explain…
SKB: Generically said, it's been a mix of ups and downs- like for the most industry segments. What I can perhaps summarize is that, when the industry was growing at a fast pace, and was demanding more, we had inadequacies of trained and skilled manpower. So, sourcing right mix of human talent and completing the projects on time was a big challenge.
Perhaps, in the fitness of things, a few aggressive OEMs, acting proactively, began setting up their offices here, with required technical support teams, and that helped the industry to a large extent. The commencement of industry certifications was a big benefit for the domestic industry, and the AVSIs.
On the other hand, understanding and appreciating the technology from the End User point of view was one big thing. While we were ebullient with new technologies and new opportunities of experiences, finding ready takers for them was one big act. We had to handhold most organizations to visualizing those experiences, working in close association with architects and other solution vendors and explaining them in all the finer details to get the install as it was intended. It did take time, but gave us the desired results, as we can see how fascinating deployments are being done in India.
That was indeed enduring, even as it was exciting.
SIAsia: How would you compare the industry status then and now?
SKB: I would hazard saying no comparison. Today, the industry is so much evolved in both size and scale from what it was a few years ago- let alone decades. The change is ubiquitous; technology development, its understanding; and deployment. If it was Convergence a few years ago, followed by AV over IP and Collaboration, it is IoT today. The current New Normal phase has only furthered the cause of IoT to more business applications.
The level of awareness among the technology takers is much higher today. They are demanding, making the industry extremely competitive. Whoever provides the right solution with best support and service will be the winners.
SIAsia: What would you pick as the most defining developments over these years?
SKB: I would pick digital signage in the first place as ushering in the most defining and game-changing impact on the industry. We can say concepts like AV over IP, Unified Communications were the next big things to give a new dimension to the industry. The most recent development that has been defining the industry dynamic, I would say, is the Active LED with Mini and Micro LED solutions featuring zero bezel displays. They seem to be taking the digital signage and unified communications to a new high.
SIAasia: We all have seen what COVID-19 has done to the world. What, according to you are the learnings from it?
SKB: Companies and businesses want to have more flexible use of AV, and not necessarily fixed to one single location. They want AV to just meet their need, may be for the time, and not as a policy. There is a new dynamic altogether driving the conferencing domain. The notion of workspace is dramatically different today. There is also a very welcome 'parity of people' in the industry.
SIAsia: How about the same for a market space where you intend to operate?
SKB: There is a demand for increased customization of solutions and optimization of resources- which is where the IoT steps in, and which is what the energizing factor for CTW as well. For the simple reason that it the very objective of CTW.
SIAsia: What would be the most defining technology in the near future?
SKB: In all the more likelihood, it would be the IoT.
SIAsia: Despite being such a large AV market, why there are no major AV OEMs (manufacturing) in India?
SKB: The main challenge, as I see it, is the discrepancies in policy regimes of different States; there is no uniform policy in the country to guide and govern manufacturing sector. Though the Make-in-India/Made-in-India is being aggressively campaigned, this difficulty is one big hassle. The other factor is the components. Local manufacturing of components is indispensable to have compelling local manufacturing of products, which is lacking.
Now that the government is providing big sops to encourage local manufacturing of components relating to semiconductors, auto parts, and drones etc. the scenario may significantly improve in the coming times.