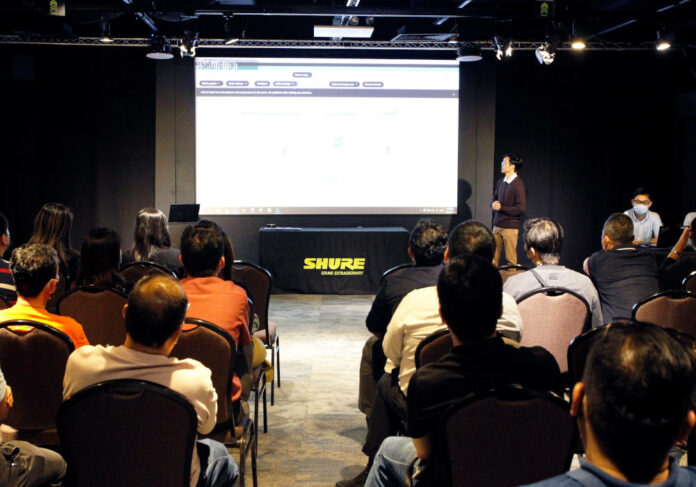 On the 9th and 10th of June, Electronics & Engineering Singapore Pte Ltd (E&E) entertained some 90 guests over various sessions to showcase Shure's latest MXA920 Ceiling Array Microphone capabilities and prowess.
Held at the Esports Experience Centre at Kallang Wave Mall, system integrators, consultants and end-users from different vertical segments got to hear and experience the Shure MXA920 at the various sessions.
The introduction of ceiling microphones has undoubtedly been a game-changer. Covid-19 further enhanced the need for touchless microphones that can pick up audio accurately. Other than the aesthetics of having a neat-looking boardroom, meeting room or classroom, the ability to deliver noise and echo-free performance, as well as unprecedented audio clarity and intelligibility, has certainly pushed ceiling microphones to the forefront.
Picking up from the highly successful Shure MXA910, the MXA920 ushers in a new era of array microphone technology. Key features of the MXA920 include:
• Automatic Coverage Technology—the MXA920 provides superior pre-configured audio capture that requires minimal setup. Out of the box, it seamlessly and automatically covers up to a 30×30 foot (9×9 meter) area, reducing setup time and effort – potentially offering integrators significant savings in time and labour. Coverage can also be customized to suit different room layouts or seating arrangements to capture only the meeting participants you want – while avoiding the areas you wish to exclude.
• Next Generation Array Architecture—the MXA920 offers more directional pick-up across the frequency spectrum to maintain accurate coverage of specific areas while enhancing voice quality for more natural sound – and focusing less on other sounds in the room. The completely new DSP algorithms enable more natural speech for participants to be heard clearly and precisely.
• Greater Application Flexibility—the MXA920 sends the precise location of every speaker to your camera control system for more accurate camera tracking. Steerable Coverage technology with individual audio outputs enables higher gain before feedback in Voice Lift and Sound Reinforcement applications.
Gary Goh, CEO, E&E highlights, "For a system integrator, the ability to efficiently install a system is a plus point. The MXA920's ability to better accommodate demanding applications like camera tracking, voice lift, and sound reinforcement makes it an install-friendly system. For the end-user to use a system that works seamlessly in the background and offers an impeccable user experience would be a priority, which the MXA920 can achieve. We are confident that the MXA920 will make a great impact across corporate, education and government sectors in the coming months."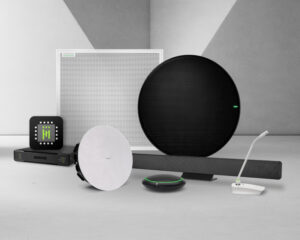 The MXA920 is Certified for Microsoft Teams when used with the IntelliMix P300 DSP and Microflex MXN5C networked loudspeaker for simplified connectivity for end-users. Available models include Square (white only) or Round (white, black, or aluminium) options that are all paintable to match the room décor. Versatile mounting options for in-ceiling, on-ceiling, pole, or wire rope configurations make it easy to integrate the MXA920 into prestigious formal conference rooms or modern spaces where architecture makes a statement.