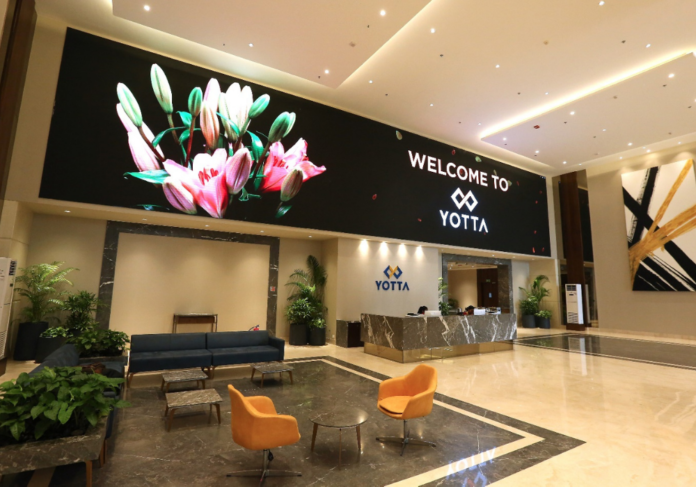 Delta, a pioneer in display and monitoring solutions, installed high resolution and ultra-bright indoor LED Display at Yotta NM1 Data Center located at Panvel, Navi Mumbai. Yotta NM1 is Asia's largest and World's second largest Uptime Institute Certified Tier-IV data center.
The combination of technology and architecture along with an extravagant LED Display has transformed the reception area into an artistic central point of the building. Delta's Indoor LED Displays deliver seamless, high-resolution, and high-contrast display solution that can be used for broadcasting information, and showcasing multimedia to the visitors.
In addition to creating a 'wow factor' at Yotta's NM1 Data Center, the LED gives an out-of-the-box visual impact to the clients and customers visiting the facility. Placed at the reception of India's largest data center building, the LED gives breathtaking views that combines elegance and technology at the center.
Yotta NM1 was recently inaugurated in a virtual event in the presence of Maharashtra Chief Minister Uddhav Thackeray, Union Minister for Communications, Electronics & Information Technology and Law & Justice Ravi Shankar Prasad, and Minister of Industries and Mining, Subhash Desai.
From a technology perspective, the LED wall is 62.3' wide and 13.1' high (19m x 4m). With 4.9 million pixels mounted in a seamless arrangement, the display provides an extremely high level of photo-realism —a true-to-life display. This installation has set a benchmark for integration of audio and video technology at this scale which has been incorporated by a major data center.
With a high contrast ratio and light output, the indoor LED Display delivers excellent images and video quality in any indoor setting. Using the most advanced image processing technology, the Indoor LED Display ensures an excellent, flicker free viewing experience.
"Delta has been a great partner and we are excited to have such a magnificent LED Displays at our reception area. It gives a unique experience to the visitors, as the LED Display delivers unparalleled image quality and brightness combined with seamless scalability and incredible resolution. These types of large Indoor screens are not just an excellent way of communicating information but also make for greater viewing experience for the people," said Vijay Maheshwari, Head – Data Center Operations, Yotta Infrastructure.
Amidst the Covid-19 pandemic, Delta Displays team managed to install and complete the setup within tight deadlines. The huge size of LED Display, at such a great height within the given time frame was a bit challenging yet achievable. Delivering the support and trust, the team was able to complete the installation on time. The LED Display at Yotta NM1 is supporting the company to share communication and plan social events with excellent image and video quality.
Yotta Infrastructure: Yotta Infrastructure, a Hiranandani group company, is a new-age Managed Data Center provider, and we understand that data is at the core of our lives. Yes, we operate the largest data center parks in India, but we really go well beyond that. Yotta empowers enterprises to host, manage, secure, compute, access and analyse memories, decisions, ideas, entertainment, finances, communication and much more!
Yotta caters to both wholesale and retail colocation markets. Besides hyper-scale Colocation solutions, Yotta also serves the vast Enterprise market – both domestic and international, which needs fully managed services and solutions. Hence, Yotta provides a complete range of Enterprise IT solutions to our customers under Yotta Tech portfolio. The services under this portfolio include Yotta Cloud (various types of IaaS – compute, storage, network, PaaS and industry-specific SaaS services), Private Cloud, Federated Cloud, IT Management, IT Security, Network and Connectivity including Inter-DC metro fiber network and AI / IoT enabled services & solutions.