d&b audiotechnik Greater China launched its first-ever official certification programme for pro-audio engineers using d&b Soundscape technology in Hong Kong in April.
Named the Soundscape Production Engineer Certification Programme (SPEC), the five-day debut event saw Production Engineers, Sound Designers and Mixing Engineers successfully gain the newly created d&b certification. The programme delivered training in signal processing and audio object-based mixing and explored the possibilities of d&b Soundscape's powerful En-Scene and En-Space software modules. It concluded with an examination to certify the participants as fully trained and ready to deliver high quality d&b Soundscape events.
The programme was held in the Yuen Long Theatre, which has a d&b Soundscape system permanently installed, and was delivered in partnership with the East Kowloon Cultural Centre (EKCC) arts complex under the Hong Kong government's Leisure and Cultural Services Department. d&b audiotechnik Greater China CEO Daniel Chan initiated the certification programme, with course content managed by d&b's Ralf Zuleeg and the d&b Soundscape Enablement team.
"Immersive audio offers creators a wealth of opportunities. In the past, audio technology sometimes limited creativity but today, thanks to tools like Soundscape, the sky is the limit – if you can think it, you might just be able to do it!" says Daniel Chan. "Soundscape is really well-positioned to provide the solution for the best immersive audio experience. I'm very happy that this course is being supported by the EKCC, who are providing a Soundscape-ready venue. Students can actually use the Yuen Long Theatre's system to practice, to experience, put their learning into practice and to realise their creative ideas."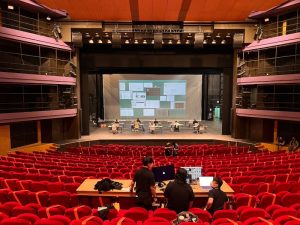 The Hong Kong SPEC event was the result of years of successful partnerships between d&b Greater China and arts and culture organisations in the region. The d&b Greater China team note that a surge in interest in theatre sound technology from venues, students and audio engineers, in addition to more Hong Kong productions harnessing the power of d&b Soundscape, meant that a training programme was needed. There are also increasing numbers of venues installing the d&b Soundscape system, including the Hong Kong Cultural Centre, Yuen Long Theatre, Shaw Auditorium at the University of Science and Technology, and the Hong Kong Design Institute.
"We can foresee more venues upgrading to Soundscape systems in the coming years," Chan continues. "As they do, we want to ensure audio production teams and engineers are equipped with the right knowledge to succeed – we are on a path to the sound designs of the future. Education has always been at the heart of d&b's value to our customers. As a market leader in immersive sound for live event applications, we are committed to supporting our industry's adoption of this exciting technology and the creative possibilities that it inspires."