d&b audiotechnik, a leading global provider of professional audio technology solutions, has announced a major new strategic partnership with Dubai Opera. The new arrangement will see d&b audiotechnik become an Official Technology Partner for the world-class venue, which will adopt the immersive audio technology of d&b Soundscape for its Studio venue.
Opened in 2016, Dubai Opera is a thriving, multi-format performing arts centre, hosting a wide program of performances and events ranging from theatre, opera, and ballet, to concerts, conferences, and exhibitions. This new partnership with d&b audiotechnik, which was unveiled at a Dubai Opera official press conference by Dr. Paolo Petrocelli, Head of Dubai Opera, alongside representatives from Dubai's Department of Economy and Tourism, Dubai Culture and UNESCO, is one of several new initiatives designed to ensure the venue's continued role as a cultural hub for the region's arts, entertainment, and creative education.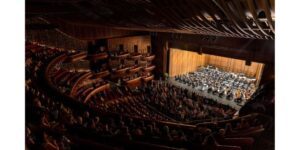 By embracing technological innovation in this way, Dubai Opera aims to broaden its artistic horizons, ensuring its place as an indispensable performance destination for the Middle East. Its partnership with d&b audiotechnik ensures a cutting-edge auditory experience at Dubai Opera's Studio, delivering an immersive sound experience that will nurture and promote creative expression.
"As we embark on the new season, we are filled with immense pride in the remarkable artistic diversity that characterizes our line-up of performances and productions, catering to the entire community and bringing together prestigious companies and celebrated artists from around the world onto the stage of our exceptional venue," says Dr. Paolo Petrocelli, head of Dubai Opera.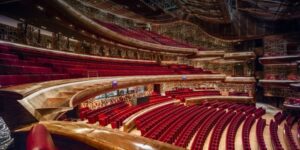 "d&b audiotechnik is honoured and excited to become the Official Technology Partner for Dubai Opera," says Brad Maiden, VP of Business Development, d&b Middle East. "This partnership elevates Dubai Opera and d&b audiotechnik as industry leaders when it comes to experiential performance, technical innovation and developing performing arts in the Middle East. The installation of d&b Soundscape into the Dubai Opera Studio provides local and international artists with an exceptional immersive sound system, and the audience with the full aural sensory experience through our signature d&b quality of sound."
Amnon Harman, CEO of d&b audiotechnik, comments, "Our partnership with Dubai Opera is driven by a strong set of mutual goals: Our willingness to explore new technological frontiers to experience a multitude of art forms, our commitment to the development of the Middle East performing arts industry into a sustainable industry that is globally recognized as fostering the very best talent – and, importantly, our combined sense of unity and togetherness, working as one team – at d&b, we call this 'Wir-Gefühl'."
The adoption of the ground-breaking d&b Soundscape in the Dubai Opera Studio will be implemented in time for Dubai Opera's forthcoming 2023/24 season of performances.