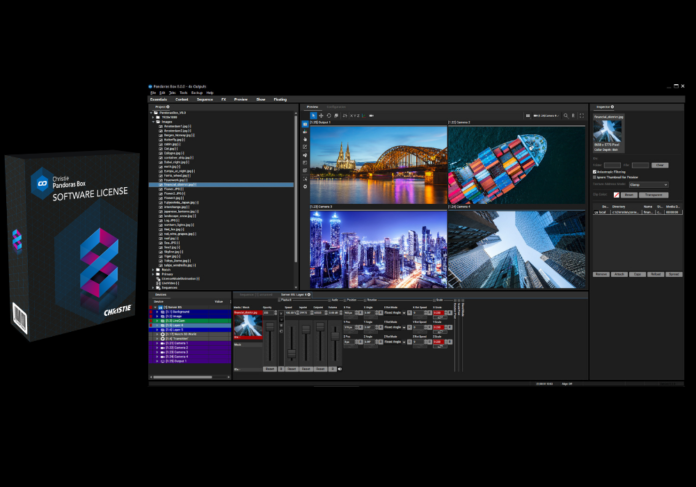 When you create a show, the last thing you need is the limitations. With the new Christie Pandoras Box Version 8 Software License, it's goodbye limits and hello creativity! Bring it together with the new Pandoras Box Server and other Christie solutions to deliver seamless, perfectly coordinated audio-visual solutions.
Making the leap
After 5 successful years, the time for Christie to make the leap from the award-winning Pandoras Box Version 6 to Version 8 is here. More than a simple upgrade, V8 includes everything creatives love about Version 6 but with powerful new features and packaged in a budget-friendly platform.
As the first stand-alone Pandoras Box software solution under a single license, V8 drastically optimizes workflows and increases effectiveness through the full, native integration of NDI video-over-IP and Dante network audio, which processes and sends video or audio signals over the entire installation. The new simplified software menu and server management saves you time and gives you a quick and easy overview for even complex projects. There are no limits to your creativity with the Notch system, which operates in real-time with Pandoras Box's powerful render engine.
Pure hardware power
The new Pandoras Box Server goes hand-in-hand with Version 8 and supports the software with pure hardware power. This new server still includes the same high-quality Pandoras Box hardware systems you love, with the addition of new components that result in the most powerful Pandoras Box media server to date. With up to 8 physical DisplayPort outputs and 4x4K60 uncompressed at 10-bit colour depth, full system flexibility is possible through optional input and graphics cards, and more. You can also use Pandoras Box Widget Designer for remote control in real-time.
Goodbye limits, hello creativity!
"We look forward to the creations our users will put together with Pandoras Box Version 8," says Markus Zeppenfeld, product manager, Pandoras Box. "V8 not only combines our previous software offerings into a single, affordable license but also offers valuable components that open up new creative possibilities."