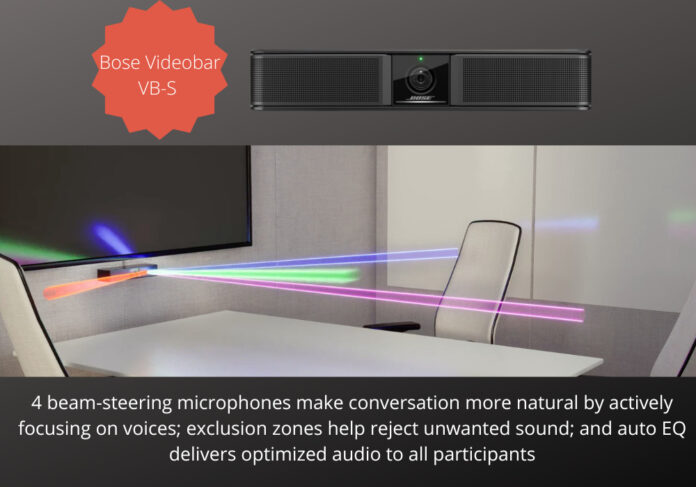 In its drive to bring feature-rich conferencing capabilities to all room sizes, Bose Professional announced at InfoComm 2022, the Bose Videobar VB-S all-in-one USB conferencing device. Delivering premium video and audio to meeting booths, huddle spaces and rooms up to 10 x 10 feet (3 x 3 meters), the conferencing device is compact and so simple to use, it can be set up between meetings — creating an experience so engaging and clear, you can read the room from across the globe.
The Full Bose Experience
Contained within the elegant, low-profile design is Bose engineering that allows the Bose Videobar VB-S loudspeaker, microphones and electronics to be housed closely together while delivering stunning performance without interference. The included option of either a table stand or wall-mount kit keeps meeting spaces orderly and clutter-free and makes installation simple.
The four beam-steering microphones actively focus on voices in the room, while exclusion zones help to reject unwanted sound and auto EQ delivers optimized audio to all participants. A 4K ultra-HD camera offers a wide field of view, ensuring that meeting participants can communicate and be seen more clearly. Its Autoframing Mode is ideal for groups as it keeps in-room participants in view, enabling remote participants to follow conversations while understanding content on whiteboards, flipcharts or other in-room objects. For the single presenter, the Follow-me Mode frames and dynamically follows the person, making it ideal for teachers or anyone leading training sessions or group discussions.
Collaborating With Ease
Like the original Bose Videobar VB1, the Bose Videobar VB-S works across popular third-party cloud conferencing services including Microsoft Teams, Zoom and Google Meet, delivering enhanced video and audio performance to key unified communication platforms. This means users can seamlessly join conference calls regardless of platform and collaborate with remote colleagues from anywhere and not miss a thing.
"The newest addition to the Bose Videobar family increases the locations where companies can ensure Bose quality and innovation to support their meeting needs," commented Martin Bodley, director and global head of Bose Work for Bose Professional. "The Videobar VB-S is perfect for addressing those vital smaller spaces where IT managers are challenged to find the right solution that's transparent and ensures meeting experiences are clear and employees feel connected."
The Bose Videobar VB-S is easily configured with the Bose Work Configuration software for fast initial setup. It is available either as an app or via web browser and enables users to manage their devices remotely. The Bose Work Management software provides device status and control of critical functions for a single-device or all the devices enterprise-wide. Through the Bose Work mobile app, users can adjust device settings in real time from a smartphone — including volume, mute, pan, tilt, zoom, preset control and Bluetooth® pairing. So, whether it's a single unit installed in one meeting area to thousands of units installed in conference rooms around the world, it is simple to deploy and manage the Bose Videobar VB-S from anywhere.