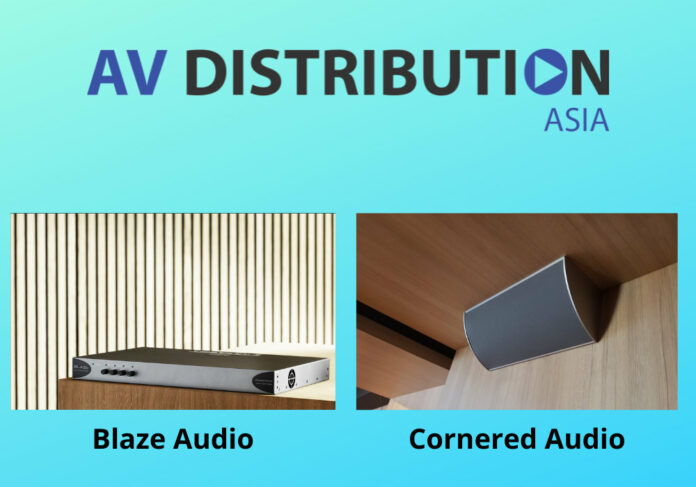 AV Distribution Asia has been appointed by Danish companies Blaze Audio and Cornered Audio as their partner for the region.
Blaze Audio specialises in powering exceptional sound performance in commercial locations. The company's PowerZone series of install amplifiers are designed to provide configurable, reliable, high-performance power amplification. They are packed with useful and innovative features. For example, any output channel can be independently configured to drive either Low-Z (4/8 ohm) or High-Z (70V/100V) loads – giving complete flexibility at install. Another useful feature is the automatic power-sharing that enables total available power to be shared across the channels.
Blaze Audio's brand new PowerZone Connect is a full matrix DSP embedded install amp that's controlled via an intuitive web app. So – you can set up and configure any system from your phone, tablet, or laptop. The PowerZone Control software allows all input, output, and multi-zone management from the smart web app.
Thomas Marcher, Managing Director of AV Distribution Asia, commented, "We are pleased to be working with Blaze in the APAC region. Their portfolio of great products with neat features – combined with a very strong commercial offer is a perfect fit for the market. I'm looking forward to speaking to many new partners across the region to discuss developing the Blaze brand in the coming years.''
George Tennet, VP Global Sales for Blaze Audio, added, ''Thomas and AV Distribution has the knowledge, experience, and network to build our distribution and help us to start-up, grow and provide long term support for our partners in the market. The Blaze team is looking forward to supporting our journey together."
Cornered Audio specializes in offering aesthetic sound systems for commercial and custom installation. With a unique 90 degree triangular design, CORNERED speakers make for a discrete and elegant installation.
Hans V. Madsen, CEO at Cornered Audio said, "With more than 20 years in Asia, Thomas Marcher brings to us solid experience with sales at a strategic level in the entire region, for some of the world's leading brands. His network, commercial skills and knowledge of installed audio both in consumer and commercial applications will be a real benefit to our organization and we look very much forward to welcoming Thomas to the team."
"Over the past years, I've been following Cornered and witnessed the company grow globally, and I feel there is great potential for Danish design and the aesthetic approach to installed audio in Asia, while still maintaining great sound. Cornered is a great fit to the AV Distribution brand portfolio, and I look forward to expanding the Cornered business in Asia further," said Thomas Marcher.
Companies interested to work with AV Distribution for the Blaze Audio and Cornered Audio solutions may connect with Thomas Marcher at thomas@avdist.asia