AVIXA – the apex body of global audio-visual industry – recently organized in Bengaluru the AV Business Leaders Networking event that attracted the who's who of Indian AV. The participants included almost the full ecosystem of the industry with manufacturers, systems integrators, consultants and distributors from across the country making their presence.
Addressed by AVIXA's Senior Director of Development-APAC, the programme was an essentially networking event for AVIXA Members. The intent was to take a latest update of the industry status, its dynamics, and direction with the participants sharing their experiences in recent times, and providing insights and suggestions towards a positive growth of the industry.
The event assumed significance since it was the first such event in recent times, with the industry journey towards regaining the momentum lost due to the pandemic conditions.
While Jonathan Seller updated the members with the latest initiatives from AVIXA, the round table interactions amongst the members were marked by both impressions and expectations for the journey into future.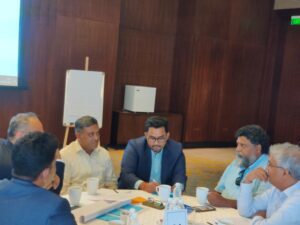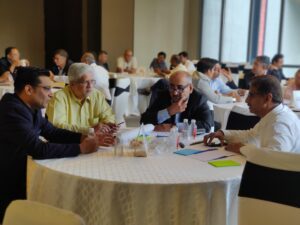 Prominent members who attended the event were Naveen Sridhara (Sennheiser), Gagan Verma (Crestron), Mahesh Kumar (Extron), Rajesh Patkar (ZeeVee), Ravi Kant Sharma(Shure), Koreth Matthew (A&T Video Networks), and Rishubh Nayar (Christie) from the manufacturers; Kaushik and Mahua Mukhopadhyay (AVID), Raymond Soans (Sigma AVIT), Sanjeev Srinivasan (Resurgent) from the systems integration fraternity; Mradul Sharma (3CDN), Raja Prabhu (iHD), Raghu (T2 Consulting) from the  Consulting Community; and Saugato Siddhanta and Mohd Haaris (NVincy), and Neeraj Chandra (Sun Infonet) from the Distribution segment.
Every segment of the industry chain had their experiences to share, and suggestions to make.