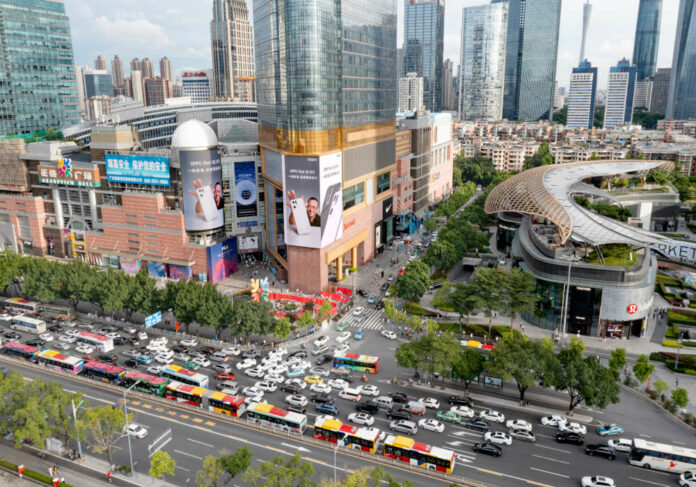 AOTO recently installed a huge L-Shaped outdoor advertising LED screen on the façade of Guangzhou Grandview Mall. Guangzhou Grandview Mall is a commercial and cultural center located in the most prosperous area of Tianhe District, Guangzhou. It gathers businesses, culture, and entertainment and is therefore known as the heaven of shopping in Guangdong.
The customized LED display covers nearly 800 square meters, with a pixel pitch of 6 mm, and boasts a super 4K resolution with more than 17 million pixels. It is installed at the entrance of the Mall, up to 10 meters above the ground. Displayed at the intersection of Tiyu East Road and Tianhe South Road, the LED billboard is perfectly located close to the major road and features a wide view angle, making it clearly visible from a distance.
Digital media screen AD series is a proven solution for high ambient light applications. It adopts die-casting aluminium cabinet design, making it more than forty per cent lighter than conventional cabinets while enhancing sealing and protection levels. The in-house designed screen control system has been adopted, and the compatibility between the screen and the control system has been improved, resulting in a stronger assurance of overall reliability.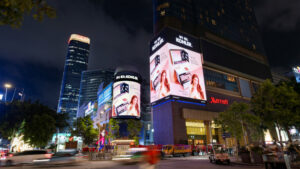 For the corner splicing of this project, AOTO adopted customized corner modules. Under the premise of ensuring the cabinet's stability and high protection performance, the cabinet can be changed to be close to the outer wall of the original building, which decreases the obvious black line of corner splicing. Thus the overall display effect is more striking. With the unique creativity, high-definition multi-angle vision, and large-area engagement, the outdoor LED display with excellent display effect helps to increase the overall grade and the value of the business district.
The AOTO AD series outdoor LED display installed at Grandview Mall has a built-in environmental controller, which can realize precise automatic brightness adjustment, high reliability, high conversion efficiency power supply and reduce energy waste. The ultra-low voltage energy-saving circuit is designed to achieve the purpose of power saving and contributing positively to global climate challenges.
About AD Series:
Pixel Pitch available: 4mm/6.67mm/8mm/10mm
AD series is an outdoor fixed installation display which specialized in digital media marketing applications; it is thinner, lighter and more energy-efficient compared with the traditional Sheet Metal cabinet. It features the quick-lock connection between the cabinets to enhance the effectiveness of installation dramatically and save installation time.