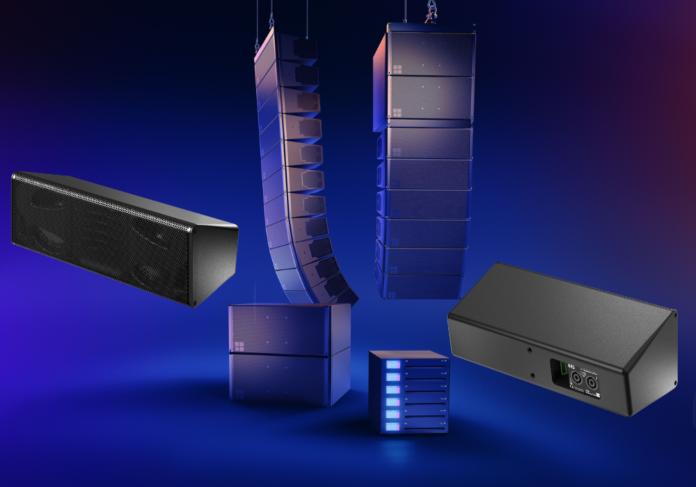 Ansata Computer Systems Pvt Ltd – the Master Distributor of d&b audiotechnik in India – has brought two high-performance product solutions from the German audio major to further rejuvenate the country's ProAV market.
The two product solutions include the company's first ever flush mountable, high-performance, flexible 44S loudspeaker, and the KSLi System which is a complete installation package with loudspeakers, subwoofers, amplifiers and custom accessories.
The KSLi system, along with its components, was actually announced at the ISE 2020, while the 44S loudspeaker system was announced in September last. However, the COVID pandemic-induced global lock downs, and restrictive environments haven't allow the shipments all these months.
"We have recently begun the shipment of these products, and they are already there on the market," informs Leslie Lean, Managing Director of ANSATA. "Both the systems caught up with the market fast, and are high on demand."
KSLi, a complete installation package for most comprehensive range: the KSLi system features two versions of loudspeakers KSLi8 /KSLi12 combined with subwoofers KSLi-SUB/ KSLi-GSUB, the new 40D high-performance installation amplifier plus a complete catalogue of system specific accessories and customization options.
The KSLi8 and KSLi12 loudspeakers, with 80° and 120° horizontal dispersion, respectively, provide consistent pattern control down to the lowest frequencies, in part due to the geometry of two front-facing 10-inch drivers and two side firing 8-inch drivers, which couple and apply cardioid techniques to cause directivity with low-frequency headroom.
Acoustically identical to the mobile KSL System, the two new units deliver the same remarkable performance characteristics: full-range broadband directivity control, extended low frequency response, and enhanced high frequency resolution in a complete package designed specifically for high performance installations.
The new KSLi SUB excels where space or weight limits exist, either flown in an array KSLi-SUB or ground stacked KSLi-GSUB.
The 40D installation amplifier, designed for fixed installation applications, is the most powerful four-channel Class-D installation amplifier in the d&b range. This high-performance amplifier provides the power density required to drive the KSLi loudspeakers to full potential. Further supporting the needs of integrators in the field, the new 40D amplifier also features a 4.3-inch color display showing a range of speaker settings, device status and more.
44S Loudspeaker: The 44S is d&b's first ever flush mountable cabinet, delivering compact, high performance audio and a wide range of flexible mounting options.
"For audio professionals who may be challenged by dimensions, architecture, or aesthetics, the 44S loudspeaker is a powerful, compact, flush-mountable loudspeaker that provides the sound needed, no matter what space they have to work with," commented Wolfgang Schulz, d&b Product Manager. "It's a very compact point source loudspeaker for flexible use in nearfield applications, and there is a big need in our industry for this type of form factor."
Driven by a dedication to designing solutions that address market needs, the 44S is a highly directional loudspeaker with SPL max 121dB using a d&b 10D installation amplifier (and 123dB with a high-powered 30D/D80), offering the highest possible performance for both permanent installations and mobile applications. The loudspeaker features a clever waveguide and baffle design which results in high directivity and minimizes interference between loudspeakers even when placed close together. The asymmetric cabinet provides built-in tilt options of +/- 20 degrees for precise coverage angles, giving users flexibility in adjusting for different listening heights.
Not only is the loudspeaker powerful, it can also go where no d&b loudspeaker has gone before with an asymmetrical cabinet shape to meet flexible in-built requirements. At only 128mm (5 inches) tall the 44S can be placed where most loudspeakers cannot: under mobile stages and balconies, stage lips, and stairs—even flush mounted in ceiling, walls and soffits with the option of a backbox.
"We at d&b are very proud to showcase our ongoing commitment to the installation market with the launch of this new product", commented Schulz. "At a time when the market is challenged more than ever, it is important for us to bring flexible, multi-function solutions to the industry."
The two-way passive loudspeaker cabinet measures just 128 x 390 x 150mm (5 x 15.3 x 5.9-inch) in size and houses 2 x 4.5" neodymium LF drivers and 2 x 1.25" HF dome tweeters, delivering a frequency response of between 90Hz – 17kHz.