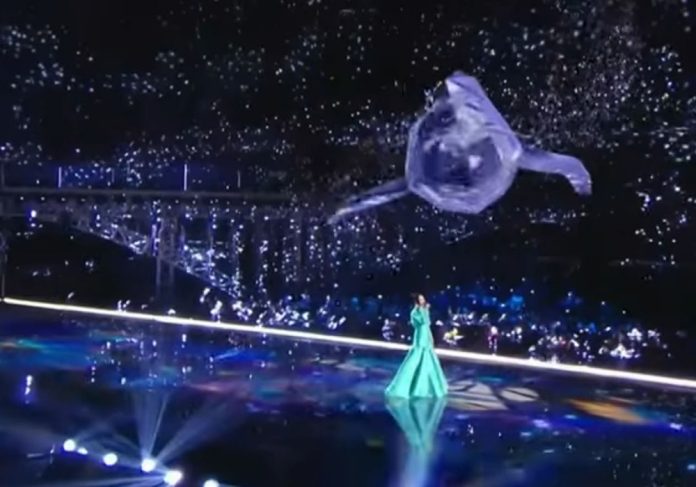 On New Year's Eve, China's major provincial television networks offer their audiences spectacular variety shows featuring popular artists. For its televised "New Year's Eve Gala", Jiangsu Satellite TV deployed Analog Way's Aquilon RS4 4K/8K multi-screen presentation system and videowall processor and Analog Way's small footprint RC400T event controller.
The gala was held at the Macao Cotai Arena on the Cotai Strip in Macau, China and broadcast globally for the fifth time. Jiangsu Satellite TV is known for its beautiful stage designs and use of innovative technology, this time to illustrate the show's theme, 'use struggle to light up happiness.'
For the first time, the gala adopted the three-dimensional structure of a double-layer stage to create what producers called 'a multidimensional universe or a parallel universe.' Professional structural engineering units on the mainland and in Hong Kong and Macao jointly designed the double-layer stage structure. The show also integrated AR elements to give viewers a new immersive experience.
Instead of featuring a giant LED background screen, the unique stage design had a sky bridge, with a 414-square meter LED floor, that spanned the entire arena. Shenzhen Xuancai Audio Visual Equipment Ltd. (Xcav), the main equipment supplier for the gala, chose Analog Way's Aquilon RS4 and RC400T to drive the LED floor tiles due to their reliability and high performance. The Aquilon RS4 utilized 10 4K outputs to create the large LED screen canvas plus two PGM outputs for the side LED screens for a total of 12 4K outputs and six 4K inputs (three main and three backup).
"This kind of multi 4K setup event would normally require multiple linked video processors to potentially create output sync and 4K layer assignments," says Yee Tat Nam, Business Development & Technical Service Manager at Analog Way Asia. "But Xcav didn't need to worry about the output sync and 4K layer assignments with Aquilon RS4 since a single unit was able to provide 24 4K inputs, 16 4K outputs and could support up to 24 4K layers. In addition, Aquilon's built-in 64 x 64 Dante interface made the whole audio and video integration very simple."
"The reason we chose Aquilon RS4 is because of the "Powerful processing for 4K inputs and outputs, number of 4K layer assignment and the very user friendly Web RCS," concludes Xcav Technical Director, Li Jun.
Wang Xi, Vice Director of Jiangsu TV, was the Chief Producer of the New Year's Eve Gala.