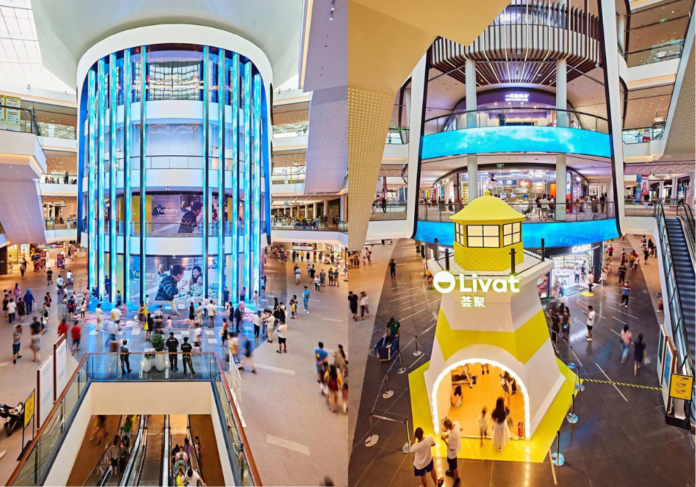 Livat Changsha mix-use centre is the first mix-use project of IKEA centres in China. The new landmark in Changsha, IKEA Livat centre opened on July 2nd after three and a half years of construction.
The Livat design is creative with the interactive and waterfall screen moved into the mall to bring amazing visual effects. With outstanding product quality and solutions, many LED displays from YES TECH were installed in IKEA Livat centre to offer a better shopping experience.
Double-sided Waterfall Screens
When you come to Livat centre, it will be impossible to miss the waterfall screen. In the middle of the hall, 20 sides of the waterfall screen create the characteristic view by YES TECH's indoor fixed series. Each side is 20m high and 0.5m wide, and the total area is 200 sqm.
YES TECH indoor fixed series has the characteristics of a high refresh, high brightness and high contrast and displays a smooth waterfall picture. Its installation is also very convenient as the professional mounting frame makes sure the flatness of the LED display.
For the dance floor, YES TECH's star rental product MG7S series with the interactive function was used. It attracts many people to experience, especially favoured by parents and children.
Curved LED Display
Walking into the north hall of Livat centre is the "power lighthouse". Two curved screens behind the lighthouse are from YES TECH's indoor fixed series. Two big screens are like large picture scroll, its viewing angle is 160° and covers more audiences.
Indoor Advertising LED Display
A lot of activities are held in the Tree House Park. In the centre of Tree House Park, the LED display comes from YES TECH's DS series, which combines with the radial line design of the building to catch everyone's eyes.
The material of aluminium alloy gives DS series a strong and durable character. Its five-layer protection effectively protects the module from damage and dual power backup design for higher reliability and longer life.