ViewSonic's foldable 135" All-in-One LED Display provides a seamless large screen and fast and seamless setup. It offers higher mobility without the logistical issues associated with big screens, making it an ideal solution to provide better convenience, flexibility, and outstanding visuals for various events.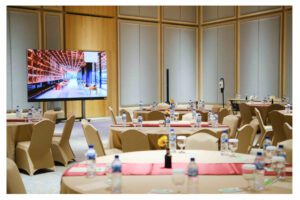 Through years of collaboration with clients in the hospitality and event sectors, ViewSonic has gained invaluable insights into the challenges faced by operators in these fields—especially when it comes to finding the right large-format displays. Critical challenges for these industries include limited labour, time, and resources:
A significant amount of time and a specialized workforce is usually required for professional audio-visual installations.
Large displays are often wall-mounted and limited to one location. Even if some are installed on a floor stand, they are still difficult to move, requiring a compromise between size and movability.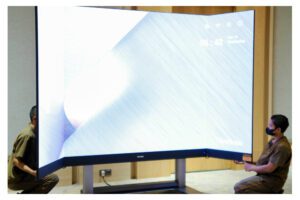 Transporting large displays can be expensive and logistically complex, involving significant cost and effort.
Additionally, external audio equipment is usually required for applications demanding reasonably good quality sound.
Due to the complex configurations of various AV systems, trained professionals are required to operate and maintain large displays. Furthermore, a dedicated space to assemble and manage the equipment is also needed.
Foldability for Flexibility
Customers constantly seek greater agility for event spaces in the dynamic hospitality and event industries. As a result, fully-fixed installations of large and bulky displays are seeing decreased demand. ViewSonic's foldable All-in-One LED Display was developed with precisely these challenges in mind. Its pre-assembled and mobile design significantly simplifies the setup process and offers a range of benefits, including:
Versatile applications: Thanks to its mobile design, the large display can be relocated freely to various locations, allowing a single screen to serve multiple spaces—rather than installing multiple fixed units across different rooms and saving the hassle of revamping the space. For instance, hotels and restaurants can use it to serve various occasions, from screenings of sporting events and movies at the rooftop bar to displaying promotions for upcoming activities in the lobby. It can also be used as a digital backdrop at banquets, ceremonies, or trade shows.
Ease of transportation: With a foldable screen, the massive 135" LED display can easily fit into traditional freight elevators and larger passenger elevators when moving. This reduced form factor makes transport a breeze—between rooms on different building floors.
This high level of flexibility and mobility also assists rental businesses in meeting clients' needs for one-time or occasional use. The massive foldable screen came contained in a mobile flight case with wheels to facilitate safe and easy transportation between venues in different cities.
Compared to other displays of a similar size, ViewSonic's foldable LED display with reduced packaging size is a cost-efficient solution for event organizers and exhibition companies to reduce both logistics costs and labour. For instance, it eliminates the need to rent a humongous vehicle and forklift to deliver and unload it.
Intuitive setup and operation: The foldable All-in-One LED display is pre-assembled with LED modules, cabinets, a system control box, and an adjustable motorized floor stand, all fitting into a mobile flight case. Once unboxed, the display can be set up easily by two people for instant use in just 10 minutes—even by staff with little-to-no knowledge of audio-visual technology. With a built-in operating system and wireless connectivity, users can directly stream content onto the display from mobile devices.
Elevated audience experience: With its premium aesthetics and incredible audio-visual performance, the 135" LED display's bezel-free and grid-free design offers a seamless and unique viewing experience. The display's vibrant colours are boosted by ultra-high brightness levels, which allows audiences to see images clearly in various lighting environments. Built-in Harman Kardon speakers round out the audio-visual package, providing a detailed, rich sound right out of the box and negating the need for additional audio equipment.
Several hospitality and event operators have already used the Foldable 135" All-in-One LED Display for a range of purposes:
The Gaia Hotel Bandung is a 5-star hotel offering modern accommodations for both leisure and business customers. The hotel has used the LED display across its 26 meeting and event spaces, with the kit's ease of transport and setup minimizing costs and burdens on staff. (Visit the case study and video to learn more.)
I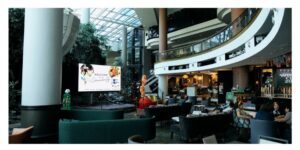 n Australia, Bankstown Sports Group deployed the solution for opening its Lady Banks Rooftop bar for public viewing of the annual Melbourne Cup Race. After the successful event, the display was relocated and used throughout its various spaces, holding screenings of other events, such as the FIFA World Cup, at the lobby lounge bar, or displaying promotions for upcoming activities. (Visit the case study and video to learn more.)