Vibhav Singh, Co-Founder & CEO of XTEN-AV, the world's first AI-powered AV design software platform, has been accepted into Young Entrepreneurs Council (YEC), an invitation-only community for the world's most successful entrepreneurs 45 and younger.
………………………………………..
Vibhav was hand-selected to join YEC based on his accomplishments as an entrepreneur and proven industry leadership. As a member of YEC, Vibhav will have access to exclusive benefits including a curated network of influential peers, personal brand building and publishing opportunities on top media outlets, volume discounts on business services, and VIP events.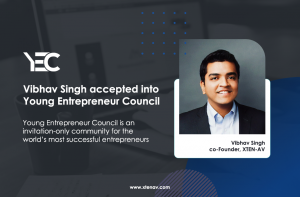 "I am beyond excited and extremely grateful to be invited to join the Young Entrepreneur Council. It is a privilege to be a part of this organization that facilitates sharing goals, experiences, and business solutions with an influential network of fellow entrepreneurs and pioneers in their fields," said Vibhav Singh.
Being an advocate of innovation, XTEN-AV being a prime example, I look forward to propagating thought leadership as well as making meaningful relationships as a part of YEC. I hope to create value for young entrepreneurs and hone the dreams of many to build successful businesses."
Scott Gerber, founder of YEC, says, "we are honored to welcome Vibhav Singh to YEC. Our philosophy is that by curating the very best entrepreneurial minds around and providing them with a space to build meaningful relationships and access more opportunity, our members can further their success and the success of the entire entrepreneurial ecosystem."
A professional in the AV business for over a decade, Vibhav Singh has worked for leading global manufacturers such as Harman, Biamp, and Music Tribe. After spending years in the industry and witnessing a minimal role of software in a hardware-dominated industry, Vibhav seeded the idea of a software platform that would reduce manual effort and exponentially increase productivity by utilizing the latest technologies such as cloud computing, artificial intelligence, and machine learning.
A resident of New Delhi, Vibhav holds a Bachelor's Degree in Engineering and also a CTS certification from AVIXA and is an avid traveler, a fitness enthusiast, and our resident audiophile.