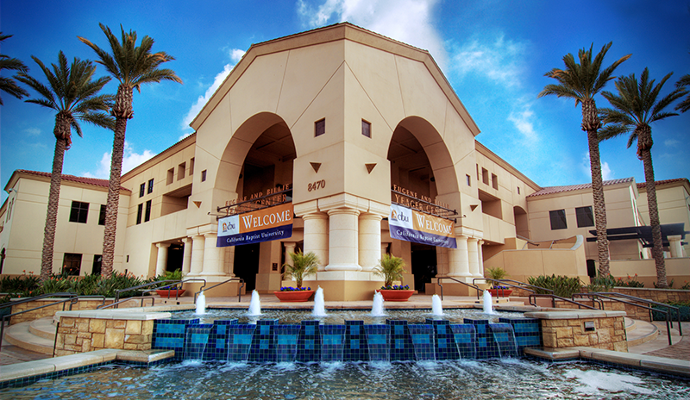 California Baptist University has deployed Audinate's Dante audio network which runs through the entire campus to support the ever-increasing demands of several diverse departments.
From high-end music productions and performances to academic lectures and sporting events, California Baptist University (CBU) relies on a Dante audio  network, Dante Domain Manager, and Dante AVIO adaptors for deploying an efficient, cost-effective, reliable and secure, campus-wide, IP audio network.
California Baptist University is one of the top private Christian colleges and universities in Southern California, hosting nearly 11,000 students with a 160-acre main campus comprised of more than 30 buildings, including the 95,000-square-foot Eugene and Billie Yeager Center, the 270-seat Wallace Theater, and the JoAnn Hawkins Music building—
one of the nation's most advanced music production and recording facilities.
Because of these critical uses, the school is continuously looking for ways to easily and securely share and manage audio content throughout the campus, and in turn, improve the student experience.
Randal Murphey, Assistant Director of Multimedia Services at CBU, said the university now has around 500 total AV spaces across the campus. He also said a critical component to success in setting up these spaces is Dante by Audinate.
Dante is the de facto standard for digital audio networking, and distributes uncompressed, multi-channel digital audio via standard Ethernet networks, with near-zero latency and perfect synchronization.
Dante allows audio, control, and all other data to coexist effectively on the same network.
"Dante is becoming the standard on campus," Murphey said. "We are moving forward exclusively with Dante as we are a school that focuses heavily on its performances. Both Dante and Dante Domain Manager are proving to be transformational in how they improve our workflows."
Dante Domain Manager is network management software that enables user authentication, role-based security, and audit capabilities for Dante networks while allowing seamless expansion of Dante systems over any network infrastructure.
The ways in which CBU has utilized Dante and Dante Domain Manager touch all aspects of the campus.
Play-by-play announcing of baseball and soccer games takes place from a production studio one-quarter mile from campus. Live event audio is played out across multiple areas on campus. A CBU radio station streams to lobby areas. The School of Music can multitrack record live performances from separate facilities. Outdoor concerts are run with less labour and less equipment.
A Dante network even runs through the school's Nursing department to support accreditation requirements, where the department must record all training sessions to show that students are meeting the necessary hours.
Every nurse instruction room is multi-track recorded via the network, simultaneously.
The school also utilizes more than 100 Dante AVIO adaptors in the school's audio system. Available for analog input or output, for AES3 and USB conversion, Dante AVIO Adapters allow users to connect their favourite audio gear with any Dante-connected system — delivering the interoperability, performance, and scalability that only networking can bring.
"With Dante we're able to share audio from a device in our music department – such as our multitrack recorder – with the sound system in a theater, or our events center located across campus," Murphey said.
"This suddenly expands the capability of every device we have on the network.
And because every room on our campus is networked you realize how quickly and effectively you can add devices – or move devices – into workflows. Networking with Dante makes things flexible and scalable in a way that is quite easy to manage."
Murphey said the versatility of Dante – from the functionality and observability of Dante Domain Manager to the scalability and interoperability offered by AVIO – allows for creative and powerful uses nearly anywhere on campus.