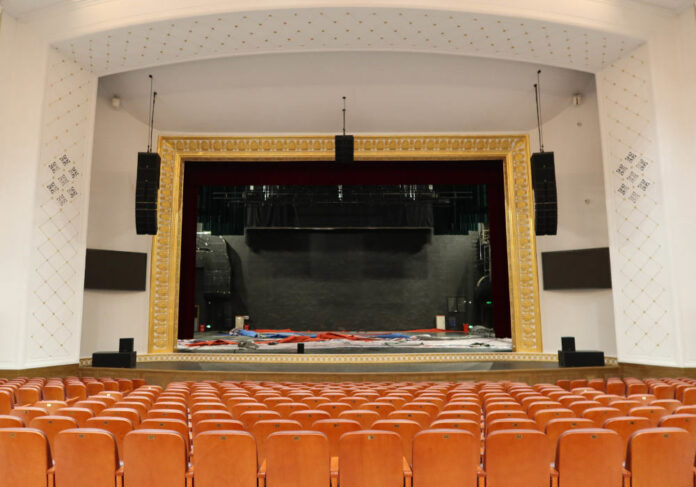 In 1959, the Wuhan Theatre was the first large theatre built since the founding of the People's Republic of China. Still standing as a prominent historical site today, the 1,459-seat theatre serves as a cultural centre that stages art performances for the local community.
Having undergone only a few minor renovations during its sixty-year lifespan, the theatre received a very extensive renovation project in October 2020. The theatre's management executed some structural repairs, some cosmetic work on the exterior, and upgraded the technical infrastructure.
The main hall's interior received acoustic improvements with a constructed fold-line design on the walls to achieve sound diffusion and even sound coverage for the audience. Management also upgraded the wooden surface in the rear of the hall with fire-resistant magnesium oxide panel boards, which will further reduce sound reflections. Builders also implemented rows of holes under the audience seats to reduce noise-induced frequencies.
Then in September 2021, L-Acoustics Certified Provider Distributor Rightway Audio Consultants (RAC) were called in to reinvigorate the audio technical specifications for the newly treated theatre. A system consisting of L-Acoustics Kara II was awarded for the new audio installation.
The team at Rightway Audio Consultants installed a distributed configuration with the L/R consisting of eight L-Acoustics Kara II hangs with two SB18i subwoofers per side. The proscenium's centre-fill array consists of four Kara II to cover audience seats in the middle of the hall. L-Acoustics X8 are placed on the edge of the stage, facing the audience as front-fill. Several compact X8 boxes are also rigged on the ceiling under the theatre's balcony to ensure coverage for the rear rows on the hall's first floor. One SB28 subwoofer on either side of the stage provides a further low-frequency extension. A pair of L-Acoustics X12 provide on-stage monitoring for theatre performers.
Once the system installation was complete, the theatre's management participated in a listening session, proving the pristine performance of the new Kara-based system. A representative from the Wuhan Theatre says, "The system performs very well. With the arrays hung, the signature sound of L-Acoustics provides power and brilliant clarity for all audience seats in the hall. We are extremely satisfied with the results of this project."
With the team's meticulous renovation work complemented by a well-balanced system installed by Rightway Audio Consultants, theatre audiences will get to experience exceptional sound for future performances. "We are delighted with the results of this project," says Zhou Fengxin, Technical Director of Rightway Audio Consultants. "We have helped the client retain the rich heritage of the theatre while adding a system of modern audio technology that visitors will enjoy for years to come."