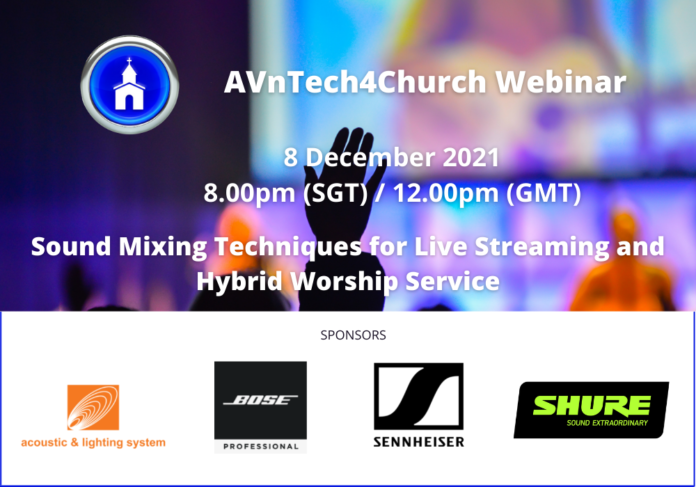 "Your demonstration on Sound Mixing Techniques for Virtual Worship was fabulously good. Thanks a lot for the session," wrote Paddy from Bethesda Hall, Singapore.
"Thanks Robert for the superb demo on sound mixing," added Dennis Yue from Paya Lebar Methodist Church, Singapore.
"Thank you so much!" wrote Andira Imeda, Bethesda Church The House Of Grace, Indonesia.
"Love the visual explanation, it is really helpful to understand the concept," shared Allie Liong, Glory Methodist Church, Australia.
"Thanks Robert for such an enlightening session. Really helps us a lot to understand more about sound and its effect," commented Edward See, Lay leader, Bethesda Chapel Limited, Singapore
The above are just some of the positive comments received from the over 200 participants attending the AVnTech4Church Webinar on "Sound Mixing Techniques for Live Streaming and Hybrid Worship Service" that was held on 8th December 2021.
Robert Soo, Founder and Principal Consultant at Cogent Acoustics, and a regular presenter at AvnTech4Chuch Webinars, demonstrated how a sound mix for a live stream can achieve better sound that was more realistic and engaging for the church members worshipping remotely. His live demonstration literally took his audience from a dry sound that was unmusical and unbalanced in tone and volume to a sound that was truly engaging by taking steps to widen the 'sound stage'. His demonstration showed how this was possible by balancing musical instruments and vocals through an audio mixer and using signal processing such as EQ, Compressor, Gate and Effects to achieve a positive outcome for the listeners.
The demonstration was followed up by a lively Q&A. This was the last webinar for the year.
"I am glad that the webinar demo has given the attendees a better understanding of the critical elements of a worship session and how applying the right tools and mixing techniques can completely change and improve the overall feel of the sound mix stream, one that is more lively, immersive and engaging for the remote worshippers," said Robert.
"It has been an interesting project for us," said David Lim, Director, Industry Engagement, Spinworkz Pte Ltd, the organiser of the webinars. "Over the course of organising the webinars this year, we realised that churches in the region needed help with the systems they are using, and I hope that our webinars helped. I am also glad that the audiences appreciated the brands who are supporting this initiative, and that we were able to offer some form of connections between them. We look forward to growing the programme next year."
The webinar on 8th December was made possible by sponsors:
Acoustic & Lighting, Bose Professional, Sennheiser and Shure
Lucky Draw winners from our 4th webinar that was held on 20 October 2021:
Bose S1 Professional
Agus Drajat, GSJA Getsemani Sampecita, Indonesia
MA Lighting Euro50 voucher
Lee Ming Seang, Ayer Tawar Chinese Methodist Church, Singapore
Samuel Leong, Zion Living Streams Community Church, Singapore
Poon Wing Kee, Life B-P Church, Singapore