A beacon of hope on the Chennai coast, St. Thomas English Church (STEC) was once known as 'St. Thomas-by-the-Sea'. This sparkling white Church was built in the year 1842, and has an Anglican background. The Church became a part of the Church of South India, Diocese of Madras in 1947 and currently has a membership of around 200 families spread across South Chennai.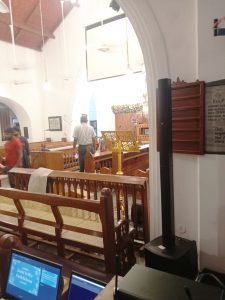 The St. Thomas Church has recently been installed with the compact and elegant LD Systems MAUI 28 G2 by Chennai based Audio Sciences – a renowned pro audio company specializing in sound, lights, backline equipment and live recording, in addition to permanent installations.
Mike Williams, Proprietor, Audio Sciences who consulted on the installation shares, "The management at St. Thomas Church were looking to re-energize the premises with a competent and charming loudspeaker system that would deliver top-notch sound for speech during their services.
"We chose to go with LD Systems MAUI28 G2 active column PA as it is an all-in-one package with distortion-free sound and easy operation. It offers unbeatable sound and wide-ranging distribution thanks to the wave guide of the tweeters that has been developed using the Boundary Element Method (BEM)," he explained.
"It reduces reflections from the floor and ceiling and prevents sidelobe levels, thus achieving an homogeneous dispersion. The church committee is delighted with the sound quality, and even the worshippers are in awe of how beautifully the pastor's words are translated through the system."