Research has proven that the pandemic has greatly accelerated digital transformation. How can IT teams ride on this digital push to improve the efficiency of their work?

The global pandemic has changed the world in more ways than we can imagine. In the past two years, we were forced out of our comfort zones and had to change the way in which we live our lives, interact with people, learn and work. Even as our lives gradually return to this "new normal", it is certain that the effects of the pandemic and the changes that it has brought about would stay for years to come.
It is undeniable that the pandemic has created an environment that greatly accelerated digital transformation. According to a survey¹ conducted by Mckinsey & Company, they found that responses to COVID-19 have speeded up the adoption of digital technologies by several years, and many of these shifts are likely to stay for a while.
The pandemic was a huge reality check for organizations that were reluctant to embrace digitalization as they found themselves unprepared to weather the storm. With our lives restricted and our health at risk, the adoption of digital technology was not an option but a necessity for survival.
Many corporations and even educational institutions have transited to a hybrid model and a lot has been said about how the work or education would look like in the future. And for IT and facilities managers who had to work extra hard to ensure that they have the infrastructure and resources in place to cope with the rising trend of hybrid work, they were faced with the huge challenge of providing a seamless virtual collaboration experience. Additionally, there has also been a huge push for automation and digitalization of workflows to streamline processes and minimize physical contact when it comes to the management of devices like microphones. But what exactly are digital workflows and how can it be optimized to help small IT teams manage their facility efficiently?
Achieving efficiency through software supported workflows
We examine what digital workflows are and how they can help organizations and IT teams achieve greater efficiency and improve service delivery.

Firstly, let us understand what digital workflows are. Digital workflows are software-supported workflows. The combination of IT-friendly AV devices and a centralized control software forms the basis of holistic digital workflows that are optimally tailored to address daily business challenges and to achieve greater efficiency. It involves a centralized device monitoring solution that is accessible everywhere in the network and on all common platforms, giving you complete remote control over your entire wireless microphone setup.
Digital workflows are the next logical step after the digitization of AV equipment that has led to a wide convergence of IT and AV. Not only are workflows such as checking the battery status of a microphone transferred into the digital domain, new ways of product interaction are also created which has helped to unlock a broad range of benefits in the interaction between people and devices.
With digital workflows and centralized control of devices in the network, the daily operations of IT staff in AV management becomes easier, faster and more cost-efficient. To underline the benefits of digital workflows, we look at 3 ways in which software-supported workflows can change and optimize your daily business routines.
1. Digital battery management: How to check battery status
The manual process of checking the battery status of microphones is time-consuming and tiring. The IT team need to personally visit every location equipped with portable devices such as wireless microphones. In a campus-style setup, this can mean many lecture halls, typically equipped with several devices each. The first thing is finding the microphone, as it is often not kept where it is supposed to be. For microphones that are not equipped with rechargeable batteries, primary cells have to be swapped prior to every usage. Depending on battery runtime and operational schedules, this could even happen twice a day – for every lecture room. The digital workflows for battery checking do not only save time but also offer multiple new ways to manage many devices with ease.
2. Location-based management: Providing user support and troubleshooting without going to the venue
Before the emergence of network-enabled devices and adding location meta data to devices, wireless microphones had to be managed in a complicated way – offline. Digital Workflows can be optimized for location-based processes and offer a broad range of support features.
If something like a run-flat battery occurs or the user may be confused with the microphone's mute status, the service or help desk personnel gets the call from the user from his location: "I am in room xyz and the microphone is not working". This can be due to different issues: maybe the microphone is simply muted, maybe the battery is empty, or maybe the device belongs to another location and is not linked up. With a holistic digital workflow and a centralized device monitoring solution, the actual cause and issue can be easily identified and solved without the IT team being physically present at the location as you can interact with the user anywhere on the campus and within the network.
If the microphone is muted, the mute switch status can be altered in the software, making it "work" again. If the battery is empty, you can either direct the user to a fully charged microphone or prepare a spare one with a remotely triggered pairing process.
3. Updates and maintenance
On the pursuit of perfect user experience, software and firmware updates add value and benefits to already installed devices. They allow IT teams and end users to benefit from new workflows, features or device skills. To easily gain access to new software or firmware versions, updates, and communication, digital workflows are tailored for seamless roll-out.
Devices of the same kind can be selected as a group and updated simultaneously. The workflow guides through the update process and reports its success in the end. This makes it easy to benefit from new functions or skills that are permanently added in ongoing development.
Everything Under Control with Sennheiser Control Cockpit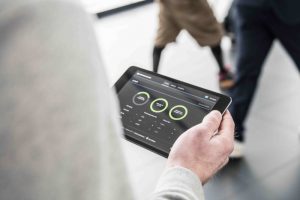 Digitize your AV management workflow for flawless daily business
Sennheiser Control Cockpit is an example of such a software that can benefit IT teams and help them achieve more, with less. It is a central software for easy handling, control and maintenance of the entire SpeechLine Digital Wireless and evolution wireless G3 and G4 portfolio, as well as the TeamConnect Ceiling 2 microphone.
The easy-to-use Sennheiser control cockpit simplifies workflow and provides digital access and overview of all network-enabled devices at all times. It shows all status information at a glance and the real-time interaction between hardware and software allows system settings to be adjusted for one or multiple devices via remote access, limiting physical contact with hardware and mitigating health risks. Additionally, users do not have to adjust to the system, but the system can be seamlessly integrated into their preferred workflow, simplifying routine activities with digital control functions.
"Operability and user-friendliness are important factors that we considered when developing the Sennheiser Control Cockpit, which has been continuously enhanced through close dialogue with users. The software is loved by our customers and is available for free", said Petteri Murto, vice president of Sales, Business Communications, APAC.
Benefits of digital workflow by example of battery change
Enterprises and educational institutions spend a lot of time and money on manually servicing microphone solutions that are spread all over the campus. Checking the battery status and function of each device can be a challenge when microphones are dispersed among conference rooms, offices or auditoriums. In campus-wide setups, there are typically long ways between all the devices in different rooms. With a lean team and a lot of devices to set up, control and maintain, this can become problematic.
On the other hand, with a central software like the Sennheiser Control Cockpit, the IT teams could monitor the status of the microphones on a dashboard, or even receive warning notifications via SMS or email to investigate a certain device. The team can then delegate the battery swap/charging to a teammate who is near that specific location.
All in all, the Sennheiser control cockpit helps to keep everything under control by shifting tiresome routine tasks into the digital domain where they can be performed with much greater ease and efficiency.
1 LaBerge, L., O'Toole, C., Schneider, J., & Smaje, K. (2020). How COVID-19 has pushed companies over the technology tipping point and transformed business forever. McKinsey & Company. https://www.mckinsey.com/
This article is sponsored by Sennheiser.