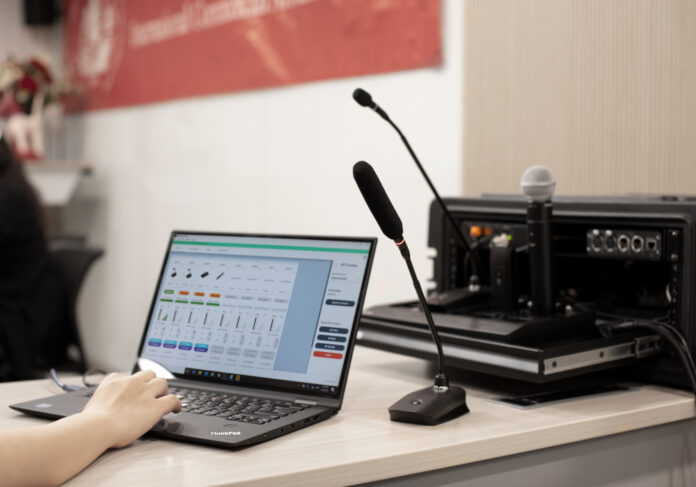 Law students from around the world got a practical learning experience in international arbitration when they took part in the annual Vis East Moot from 14-21 March 2021. Conducted virtually due to COVID-19 restrictions, the competition highlighted the critical role of technology in modern dispute resolution.
The successful execution of the week-long event was made possible using Zoom, integrated with a combination of Shure AV conferencing and home office solutions.
The Vis East Moot is among the world's biggest international mooting competitions. It was created after the success of its sister event, the Willem C. Vis Moot in Vienna, and is designed as a tool for training future legal professionals in the crucial aspects of alternate dispute resolution. In its 18th year, the Vis East Moot attracted keen interest and support from numerous international industry bodies for arbitration and law firms. Student teams from 149 universities around the globe competed online in a series of elimination rounds, arguing orally before an international tribunal of almost 280 professional arbitrators
(competition judges).
Having first run the competition virtually in 2020, the organizers already knew that they had to set up operations so that administrators in Hong Kong could effectively manage the 100+ Zoom sessions and event ceremonies. At the same time, they also had to ensure that all competitors and arbitrators could be heard equally throughout the ongoing sessions, no matter where they were connecting from.
As sponsoring audio partner, Shure helped to make this happen. In addition to some general education on virtual meeting best practices, the 20 moderators who coordinated the Zoom calls were provided with AONIC 50 Wireless Noise Cancelling Headphones and AONIC 215 True Wireless Sound Isolating Earphones. This ensured an undisrupted and uniform audio experience while working alongside each other in the event's command center – a multi-purpose conference room at Hong Kong's Justice Place.
Additionally, the organizer also wanted to retain the formal feel of the competition by live streaming keynote speeches and ceremonies in typical presentation style. This was enabled with a Zoom-certified AV conferencing system also provided by Shure. The setup consisted of a Microflex Wireless Microphone System integrated with IntelliMix P300 Processor and direct USB connection to the laptop used to stream the Zoom session. A Huddly IQ Camera added the visual component for an all-around, high-quality streaming experience. As the conference room was repeatedly rearranged to accommodate the ongoing group calls and ceremonies, the portable, self-contained AV system enabled maximum flexibility and efficient connectivity.
Paul Gunia, Director of Technology Partnerships at Shure, commented: "AV conferencing technology that is certified to work together seamlessly can make a huge difference for organizations across all sectors that are adapting new models of operation. The success of the Vis East Moot 2021 using professional Shure audio solutions, integrated with our technology partners Zoom and Huddly, demonstrates how it remains possible to maintain effortless communication as in-person events are going virtual."
Louise Barrington, Director, Vis East Moot Foundation Limited, remarked: "For us, the silver lining to the COVID cloud is that our online format has allowed a record number of schools and arbitrators to participate in our Vis East experience, who normally wouldn't have been able to travel to Hong Kong to join the in-person event. We are thankful for the support of our sponsor, Shure, who provided us with the technology and best practice education that allowed us to embrace the new reality of virtual arbitration and give our participating students an opportunity to develop their skills in a global setting."
The Vis East Moot concluded on 21 March 2021. Congratulations to the winning team from the Fordham University School of Law in New York.