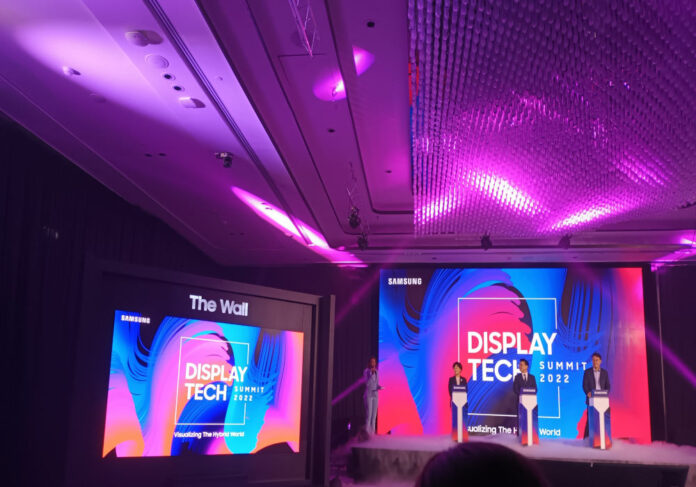 The inaugural Samsung Display Tech Summit 2022, which was held in Bangkok on 13 and 14 September, saw the launch of two new series of The Wall – Samsung's cutting-edge Micro LED displays for the Southeast Asia and Oceania (SEAO) region.
The summit hosted some 230 enterprise customers, tech enthusiasts and pro audio-visual partners from across the region over two days to share the latest insights and first-hand experiences on Samsung's next-generation commercial displays and solutions.
"We are in the midst of a hyper-scale shift towards hybrid interactions, where everyone is expected to be seamlessly connected – be it at office desks, meeting rooms, classrooms, cafes or in the home office," said Alex Hong, Head of Asia Sales & Marketing Group, Display Solutions, Samsung Electronics. "Organizations today have an opportunity to reimagine the future of productivity and collaboration that combines physical, digital and virtual worlds. I am excited about the role of display technologies in helping organizations to reconnect with its stakeholders in an ever-developing hybrid world."
Creating Immersive Customer Experiences with The Wall
Perched at the pinnacle of display technology, Micro LED technology offers immersive viewing experiences in a high-resolution and large screen format, creating premium customer engagements for brands.
In 2018, Samsung, a pioneer in Micro LED displays, launched The Wall, which was then the world's first consumer modular Micro LED 146-inch display. Since its launch, The Wall has been deployed to provide customer premium experiences globally, including in this region. In Bangkok, The Wall enables The Forestias by MQDC(1), Thailand's biggest property development project, to present a one-of-a-kind 360-degree cinematic experience to inspire its customers.
"Micro LED represents the future of display innovation. Samsung is leading the way in Micro LED adoption in Southeast Asia and Oceania with our flagship The Wall series. Expanding The Wall lineup with the launch of the All-in-One model, we are offering even more immersive experiences and innovation in installation, which significantly simplifies the process akin to installing consumer TVs," said Leslie Goh, Head of Regional Display Solutions, Southeast Asia & Oceania, Samsung Electronics.
Launched in the SEAO region at the Summit, The Wall All-in-One, also called the IAB Series, brings the ease of Micro LED installation to the next level. The IAB Series requires only two hours for two people to install as it comes with a pre-adjusted seam and pre-assembled frame kit, which includes an embedded media play S-box. The Wall All-in-One has a display thinness of just 49mm and is available in three models: 4K 146-inch, 2K 146-inch and 2K 110-inch.
Also unveiled at the Summit is The Wall IWB Series, which is available in 0.63 and 0.94 pixel pitches. At 0.63 pixel pitch, this model is the slimmest ever pixel pitch in The Wall lineup, delivering Samsung's most detailed picture and dynamic range expansion with the screen's 120Hz frame rate, HDR10/10+ and LED HDR. The Wall IWB Series also provides a variety of screen sizes, accommodating 4K movies for 110-inch and up to incredible 8K quality for 220-inch.
All models in The Wall lineup feature Black Seal technology, enabling purer black levels with enhanced depth and details; Ultra Chroma technology, where narrower wavelengths produce RGB colours two times purer(2) and more accurate than conventional LEDs; 20bit processing to present extraordinary contrast ratio and smooth, natural tonal gradients; and Micro AI Processor to enhance image contrast while removing noise instantly.
The Wall also features Multi View, which enables simultaneous playback of content from up to 4 sources on one screen without the need for a video splitter.
Also revealed during the Summit was the new 2022 Samsung Flip Pro, available in 55-inch, 65-inch, 75-inch and 85-inch models, is perfect for students and professionals to enable high-quality collaboration with real-world writing and drawing experiences with pen and brush modes, integrated video call apps, multiple connectivity and wireless screen sharing. To cater to content creators, especially about colour reproduction, Samsung demonstrated their new ViewFinity S8. It is a high-resolution monitor available in consumer popular sizes of 27-inch and 32-inch for creating impactful content such as graphic design or detailed financial charts in the office or at home. Its pro-grade UHD resolution carries a wide colour gamut up to 98% of DCI-PS and VESA DisplayHDR(3) for optimal range, accuracy and nuance. Notably, the ViewFinity S8 received 'PANTONE Validated recognition for its ability to accurately reproduce more than 2,000 colours and newly added 110 skin tone shades from PANTONE.
Catering to the interests of Gamers, Samsung also launched their Odyssey Ark which is the world's first 55-inch 1000R curved gaming monitor. This next-generational 4K gaming display features a 165Hz refresh rate, 1ms response time and a Cockpit mode to create a whole new immersive and personal gaming theatre for competitive and casual gamers alike. This ultimate gaming monitor also comes with the Ark Dial, which is a solar-powered controller built to give the player quick access to screen functions such as Flex Move Screen, Multi View and Quick Settings.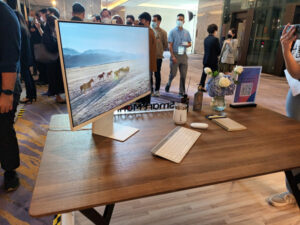 Finally Samsung also presented its latest Smart Monitor series, the M8, featuring an upgraded, stylish design. The versatile new M8 delivers Samsung's iconic slim design in four new colours — Warm White, Sunset Pink, Daylight Blue and Spring Green — available in 32-inches with UHD resolution and a SlimFit Cam. When it comes to productivity, the Smart Monitor M8 has it all. The M8 provides a perfect home office environment without using a PC by connecting to various IT devices through the upgraded Smart Hub. The Workspace User Interface offers all services needed to work on one screen, helping users wirelessly connect to a Windows or Mac PC and efficiently use an extensive range of useful features, including Samsung DeX, Apple AirPlay 2 and Microsoft 3652 cloud service, as well as mirroring content from smartphone to the M8.
Footnote:
(1) Samsung Lights Up Bangkok Landmark with The Wall's 200 Million Pixels
(2) Figure is based on internal testing standards against Samsung's conventional LED Signage.
(3) The 32-inch version supports VESA Display HDR 600, while the 27-inch model supports VESA Display HDR 400.