With renewed energy, L-Acoustics welcomed Certified Provider partners to a technical boot camp in Bangkok, Thailand, for the first time in two years. Finally, after years of online-only sessions, technical referent engineers from partner companies based in ten countries in the Asia Pacific region could gather in person to learn about the latest technologies from L-Acoustics and update their skills with peers from the region.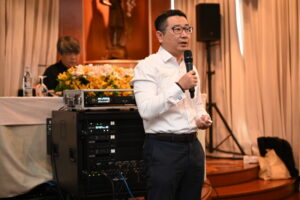 Welcomed by Tim Zhou, CEO of L-Acoustics APAC, up to a dozen boot camp participants shared and presented project case studies on the first day, highlighting their work with L-Acoustics products for various deployments. Rounding off the day, Francois Montignies, Head of Education Programs at L-Acoustics, shared updates to the L-Acoustics Education Outreach Program. Then, Damien Juhasz, Application Project Engineer APAC, introduced the technical referents to L-Acoustics' latest range of products. Montignies explains, "At L-Acoustics, our global education program is essential. It allows us to keep our Certified Provider partners and their dedicated engineers up to date with our products and technologies to offer the best quality of service to their end users."
All L-Acoustics Certified Providers receive official training from L-Acoustics. This ongoing training ensures that partner engineers are as well-trained as L-Acoustics application engineers and that they deliver the same quality to clients around the globe.
Day two began with Juhasz delving into the best practices on project delivery and support between partners and an L-Acoustics application engineer such as himself, as well as running through the efficient methods when implementing an L-Acoustics ecosystem. For the rest of the day, Montignies, along with Alvin Koh, Director of Application APAC, and Regional Application Engineers Chung Wah Khiew and Frieda Lee, spoke about a range of updates to processes in 3D room modelling, line source optimisation, Milan-AVB products, system calibration in LA Network Manager and 3rd party control.
Alvin Koh also presented L-Acoustics software platforms such as Soundvision, hardware engines like the P1 processor, and L-Acoustics' range of amplified controllers: "We have all these amazing tools for designing and calibrating the best sounding systems, but it does not just stop at releasing them. Training our partner engineers allows for optimal operation of these excellent resources."
On the final day, Montignies tutored participants on the workflow of tuning a system using the M1 suite of measurement tools. Adapting calculations and measurements from the P1 processor to the M1 software, he demonstrated how an L-Acoustics system is calibrated to achieve optimum sound coverage for any project. Montignies then delved into immersive audio with L-ISA in a live sound setting. Next, Alvin Koh illustrated specific L-ISA features, such as preparing spatial fills for object-based mixing. Damien Juhasz then capped the day with a demonstration of how L-ISA's Ambiance virtual acoustics system captures the acoustic energy of a space and transforms it through the spatially aware L-ISA Room Engine.
Participating engineers brainstormed ideas for potential forthcoming projects and asked questions of L-Acoustics application engineers who shared their insights and suggestions.
"Our R&D team regularly releases robust updates to all our premium offerings, so we must consistently train our partners. Keeping them up to date and offering our technical support ensures they can be confident with L-Acoustics products and technological advancements. It is invaluable when they propose an L-Acoustics system to clients worldwide," concludes Zhou. "I think our partners are as pleased as we are to do this training again in a face-to-face setting."