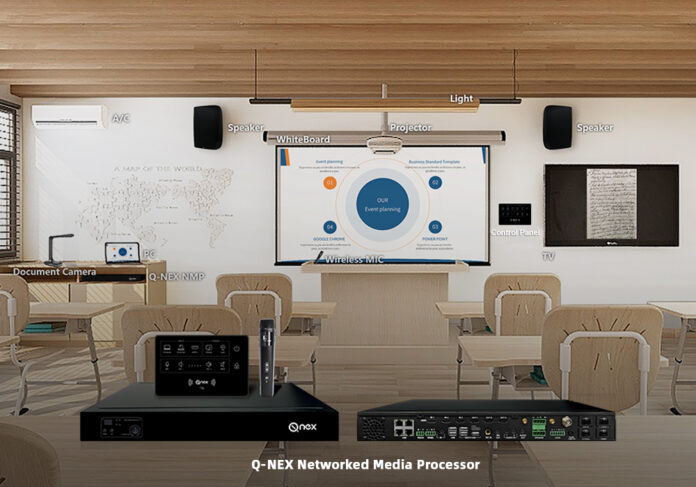 The 21st century classrooms are overwhelmed by all kinds of new technologies: projector, computer, electronic whiteboard, interactive flat panel, speakers, power amplifier, wireless microphone. When school leaders are busy planning an environment of digital learning, interactive teaching and smart campus, various equipment are installed into classrooms, regardless of teacher's reluctance to learn how to actually use them or the IT administrator's complaint on the management difficulties.
Q-NEX aims at solving these problems by a Networked Media Processor. It's a piece of highly integrated equipment designed for classroom devices centralized control, AV distribution over IP and live streaming on a unified platform. Using the school's existing network, Q-NEX offers IT admin remote management over the whole campus through web or App anytime and anywhere.
Here's a typical school day scenario: before the class begins, the teacher needs to turn on the classroom devices one by one and wait for them to be ready for use. During the class, he will probably be troubled by switching the display content between the visualizer and his laptop. After the class is over, the classroom is very often left unattended with lights and the projector still on, and the school IT admin has to run over the campus to make sure every device is turned off properly.
With Q-NEX Networked Media Processor in the classroom, the teacher can easily power on all the devices (lights, air-con, classroom TV, interactive display, projector and electronic screen) by a simple one touch on the desktop control panel, or tapping his ID card. Besides local control, the IT admin can also set schedule task through a web-based Q-NEX Console or App to power on/off devices for all the classrooms.
What's more, as a convergent AV/IT solution, Q-NEX also enables ad hoc and scheduled AV over IP distribution to classrooms. For example, the school IT admin can customize the school bell tone and schedule the ringing time, or even make a playlist of school music to be broadcasted to different groups of classrooms during lunch break. Another highlight is live streaming to classrooms. Instead of gathering in the auditorium, students can watch the live speech from the principal on the classroom TV for any public announcement.