Promoted by Rishu Baveja – a true pioneer of sorts for nightlife in Pune – Orilla does absolute justice to the meaning of its name, which literally translates to 'riverbank' in Spanish. The property, which is located in the upscale Koregaon Park area of Pune city, has been built on a river bank over an area of 15,000 sqft and sports a lavish 12,000 sqft outdoor section to lounge and relax, along with a plush 3,000 sqft indoor nightclub area to enjoy pulsating and chest-thumping music action.
Therefore, it is no surprise that many ardent nightlife lovers consider Orilla one of the city's most unique and distinguished nightlife destinations, as the venue offers a unique blend of contrasting moods in the form of serene visualscapes and high-energy soundscapes.
While the plethora of lip-smacking cuisines and exquisite cocktails available at the venue do make it a must-visit in the city, Orilla has, in fact, gained its repute and distinction for the superlative music experience that it offers. And it is all thanks to a carefully planned and meticulously implemented high-performance sonic architecture that's been commissioned at the venue by Devil Acoustics – a burgeoning brand of audio solutions that is quickly rising up the ranks within the nightlife and entertainment segment in India.
According to Vikram Shetty of Devil Acoustics, "Orilla is India's first nightclub to achieve a frequency response of 20 Hz – 20.000 Hz, covering the entire spectrum of the human auditory perception. This was accomplished by setting up Devil's flagship solution, i.e. the 5-way configuration implemented at the venue to deliver all the details available in any modern audio recording at sound pressure levels required at large outdoor venues."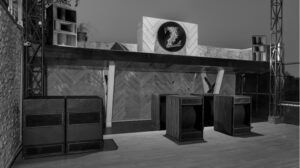 In total, the audio installation at Orilla employs a comprehensive loudspeaker system from Devil Acoustics, comprising a total of 13 units of high-power 15-inch install-specific loudspeakers, two units of dual-12-inch long-throw 3-way loudspeakers, ten units of dual-18-inch push-pull hybrid horn subwoofers, six units of single-18-inch fill subwoofers and four units of dual-18-inch InfraSub subwoofers; each of which has been installed at precise points across the indoor and outdoor sections of the venue to ensure a uniform sonic signature all-through. Additionally, all of these elements have been seamlessly integrated to offer a homogenous system with the entire loudspeaker system at the venue managed through multiple units of the Devil Acoustics' R48 Digital Speaker Management Systems, which affords unparalleled control over achieving precise system optimization.
Speaking about the main FOH system at Orilla, Vikram informs, "The main system here is capable of sustaining continuous sound pressure levels in excess of 120 dB on the dance floor, both indoors and outdoors. This headroom allows the system to always operate well within its limits without excessive heating of sensitive transducer components. The sound remains as tight and defined at the end of the party as it was at the beginning. On the other hand, ultra-deep bass is delivered by dedicated InfraSub subwoofers that operate in a narrow frequency range of 20 Hz to 50 Hz. The upper bass from 50 Hz to 100 Hz is delivered by sophisticated "push-pull", hybrid horn subwoofers. This combination results in unbelievable levels of definition, depth and control in bass performance."
The sonic experience at Orilla is undoubtedly superlative, as the venue has progressed to host several noted indigenous and international artists; with almost every event being a sold-out success.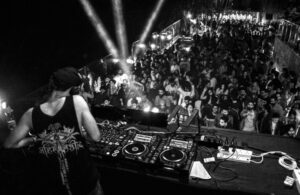 On the topic of crafting such a uniquely transcendent aural experience at Orilla, Vikram explains that the approach adopted by team Devil Acoustics was mainly based on bringing together a seamless confluence of art, science and technology. As he elaborates, "We believe that sound plays a major role in the quality of an experience. Often overlooked, sound creates an invisible canvas that puts everything else in perspective. And so everything we do is about creating the best possible sound atmosphere. To give your customers the best possible experience. Our aim has been and always will be to provide optimal integration of space, audience and audio technology, not only by using the best audio equipment but through an integrated approach utilizing our expertise in acoustic sciences, electro-acoustics and psycho-acoustics. It starts with a thorough acoustic analysis and treatment of the space to reduce background noise and provide the stage for clear sound with high intelligibility; which is then followed by the system design itself, which involves careful selection of the best loudspeakers, amplifiers and digital processors, defining the speaker placement and verifying each setup through computer-based simulations and SPL heat maps. Once this is done right, we move on to the calibration of the sound system, where we ensure that the venue sounds nothing short of spectacular!"