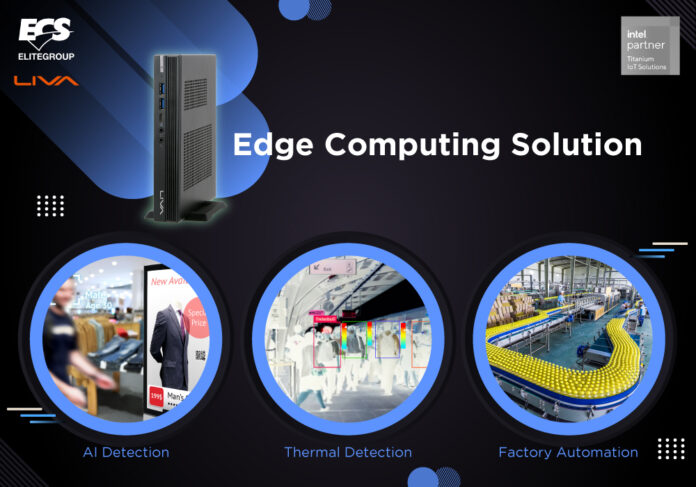 ECS LIVA Mini PC Iis designed as an all-in-one computer in compact size equipped with high-efficient CPU for calculation, dual-band Wi-Fi or wired Gigabit Ethernet for data transmission and expandable SSD or hard disk for data storage for various edge computing application. Read to find out how ECS LIVA applies in edge computing installations.
AI Retail Store Advertisement
With reliable connectivity options from its dual-band Wi-Fi 5 or wired Gigabit Ethernet, the LIVA One H410 Mini PC can act as a thin-client for cloud-based management solutions, or embrace full Linux OS or Windows 10 to run heavier edge compute demands such as AI-infused applications. For example, smart retail and smart signage that relies on facial recognition and gaze alerts for targeted advertising, people counting and foot-traffic heatmaps for retail intelligence, and security applications. The advantage of powerful edge compute is the immediate response, minimizing any wait times, providing better service, and localized data-processing that only sends processed data, reducing bandwidth costs to any off-site server analytics and control.
Thermal Detection
The urgent need for public health screening requires manually checking the temperature of every person in line, leading to long lines of impatient clients with important things to do. With its outstanding CPU processing, LIVA Z3 Plus Mini PC can be connected to a thermal imaging camera to process and analyse surveillance video in high-traffic situations to draw all input together in one place, allowing visitors to stream into the building naturally, without the long queues.
Factory Automation
Within the ever-changing landscape of industrial manufacturing, automated machines in assembly-lines maximize production rates while minimizing defects due to human error. As an ultra-compact PC with fully functional features, the LIVA Z2 Mini PC comes equipped with extra HDD storage, 6-port for USB connections, Gigabit LAN port, wireless LAN, Bluetooth connection and dual HDMI ports to provide the data computing and transmission to a control centre. In a factory setting, the LIVA Z2 Mini PC's fanless design prevents dust from being sucked into the system, reducing the need for maintenance in tight spaces.
With LIVA, the opportunities are endless. Get ready to collaborate, create, learn, and play like never before. Save time while increasing efficiency with solutions that let you control your world from a PC that fits in your pocket. To learn more, click here: https://www.ecs.com.tw/en/Product/LIVA?tab=0
If you are looking to enhance your integration for your client to the next level, leave message via ECS online inquiry form https://lihi1.com/O9e5d for a discussion on how LIVA Mini PCs can help you.