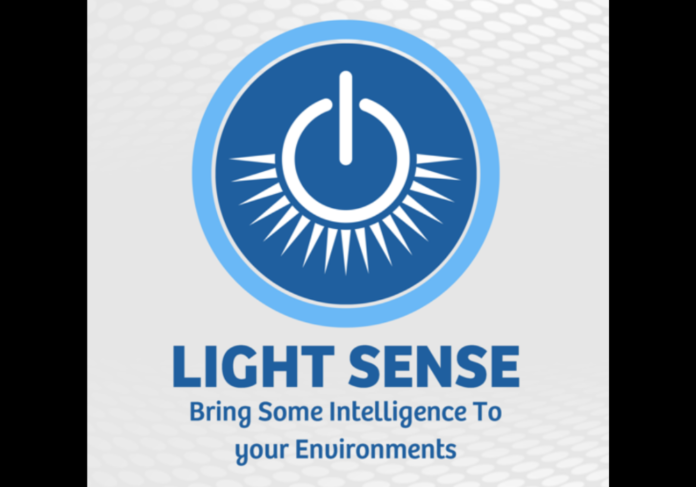 Last month, we promised to bring you a 'Make-in-India' story by AVians. We did that with a strong conviction that there is a cognizable steam and energy in the channels despite challenges of yoke, and we did find quite a commendable activism on the front. We present here the first of the series here- the coming together of an established lighting solutions player from Coimbatore, and an emerging AV solutions provider from Hyderabad to launch a new lighting brand- aimed at Professional AV domain, besides others.
A snappy account though- for limitations of space and eye comfort:
…………………………………………………
There is a new Light Sense coming to the AV market place- in a few weeks from now.
Yes, the name and term do mean what they read. It's both brand, and brain, assert the people bringing it to the market.
More interestingly, it is billed to be a perfect statement of Make-in-India brand, with the entire chain of material procurement, design and development happening from India.
"Light Sense would bring a truly new lighting sensibility to the industry user community; it's about moving to the next level in lighting solutions powered by IoT," say the two entrepreneurs promoting the concept jointly.
One of them is Feroz Ahmed, Founder-Director of the nine-year-old Audio Visual Planners, and a humble familiar name in Hyderabad AV circles while the other is Ashok Subramaniam, Founder-Director of Coimbatore-based Mowitra Innovations Pvt Ltd a reckoning player in the Home Automation domain for over five years now.
Mowitra indeed has quite a few achievements to its credit, including the patented technology of Inteli-BUS, and AI-enabled Mowitra Hub which not only interlinks the Mowitra Home control devices but also doubles up as a normal Wi-Fi router enabling standard Wi-Fi devices to connect, thereby eliminating the need of a standalone Wi-Fi router.
It all happened by a 'third party,' so to say.
Having set up the company for eight years now, and made a name in the industry, Feroz had been exploring for some newer business opportunities for some time, and got connected to Ashok through a common friend.
The two brainstormed for a considerable time on the probables and prospects, and sometime late in 2019, they hit upon the thought of developing IoT-powered next-gen lighting solutions since they were sure of the future times to be connected and controlled by IoT.
Ironically for them, while the excitement levels were flying high of the perceived potential of the business, the COVID-induced pandemic willed otherwise- to put breaks on their activism. The deterrent conditions did slow down the activism, but not halt the process, as the 'ball of fiery idea was already set in motion,' recalls Feroz.
"Ashok and Mowitra have already made a name in home automation through innovating lighting devices, and we in AV business," says Feroz. "We ideated why not we combined our expertise in our areas of strength and innovate to a newer level of sophistication for AV applications," he explains. "That sounded exciting."
"At Mowitra, innovation is about elevating technology to the next level where it represents the actual needs of people, combining seamless functioning with an interface that is beautiful, simple, hassle free and provides an exquisite experience," explains Ashok. "Our vision is to become India's top IOT-based lighting solutions provider – through technology innovation and optimum returns to stakeholders," he continues. "Our mission is to create value to users through experiential solutions from world-class products."
"With a name already made for cutting-edge lighting technology solutions, foraying into Smart Lighting is natural forward integration," reasons Ashok.
Thus was born the Light Sense as a Hyderabad-based IOT-powered lighting solutions brand, fully designed and developed indigenously in India where Mowitra will play all the backend part with design, develop and manufacture at its Coimbatore plant, while Audio Visual Planners will take the front end role, branding and marketing the products as Light Sense solutions (under the newly-formed KMK Electrical and Electronics Pvt. Ltd. company).
The joint-venture sort Light Sense is all poised to roll out its spectrum of lighting ranges the coming weeks for Smart Industrial and Commercial segments to begin with, followed by ProAV.
"We are all excited to launch the Light Sense lighting ranges in April; it may, however, take a few weeks more due to the pandemic uncertainties," informs Feroze. "However, we should have the Pro AV lighting solutions too glowing up the market too soon."
Chips in Ashok, "we can say it's like a thick-of-Lockdown venture, from concept to completion; more importantly, it's a perfect statement of 'Make-in-India' initiative."
According to him, the entire chain of the manufacturing process – raw material procurement, design, development, and manufacturing – is indigenous. Practically every component is sourced domestically, processed, designed and developed in Mowitra labs, and manufactured in Mowitra plant.
"The Government of India's recent focus on Make-in-India focus too has helped our cause to a good effect," informs Ashok. "Even the Tamil Nadu government's initiatives to develop Coimbatore as a software hub have been very beneficial and complementary for Light Sense brand."
Being technocrat himself, Ashok spearheads the design and development aspect of the Light Sense brand product ranges, with a team of skilled and certified professionals. Coimbatore being a hub of both academic and field side hardware competence, there is no dearth of skilled and certified talent, he asserts.
Feroz from his side, intends to promote the brand aggressively by means of tradeshows, and road shows, besides a dedicated orientation programme initiatives with Smart Building professionals across the country.
Finally, the competition, and the onslaught of Chinese-make products on the market. Ashok feels quite pumped up about the government's supportive measures to stand better of Chinese competition. First- it was the strict enforcement compliance with BIS standards which none of the Chinese products stand today. Second, an increase in the Customs duty on LED imports has also helped India-made LEDs.
So, it's a win-win situation for everyone with a Light Sense!