LAMPRO recently hosted a brand upgrade talk in Jakarta, Indonesia. The occasion was well received by guests and provided the platform for an introduction to the new branding position of the company before new products were introduced.
LAMPRO has recently undergone a rebranding programme to better represent its core values, taking the company, part of the Unilumin Group, from LAMP to LAMPRO. The company now represents itself with a new image and a new visual, which is an interesting and meaningful indication of its new direction.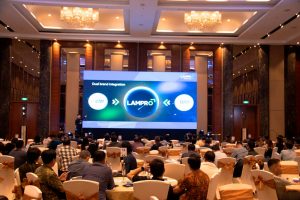 With the original brand name extended to include the word PRO, meaning both support and agreement, signifying the future of ongoing professional support to partners, LAMPRO also introduced a new logo in the new brand colour of green.
Adopting one colour of the classic LED module triumvirate of RGB, LAMPRO depicts its vital and symbiotic support relationship within the Unilumin Group as one of the three display brands, LAMPRO, Unilumin and ROE. Whilst the three brands occupy different market positions – with LAMPRO focusing on professional channels, whilst Unilumin remains focused on integrated solutions and ROE, high-end rental – they are supplementary to each other in the provision of professional support for customers and partners.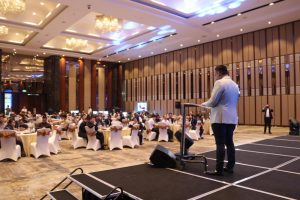 Lawrence Liu, general manager of the sales department, stated that LAMPRO will focus on improving channel service, expanding production lines and establishing LAMPRO customer systems to better and more precisely serve partners whilst continuing to deliver to core essence of LAMPRO. Maintaining the strong foundations of 'more, quick, professional, and economical', Liu asserted, "Business boundaries will expand for more customers to experience the added value and continued long-term cooperation of LAMPRO's professional products and solutions, contributing to their business success," adding, "LAMPRO and LAMPRO partners will chase a bright future together."
Emphasising the company's commitment to high-quality and stable LED solutions for channel partners, the LAMPRO event continued with the introduction of new products, led by the launch of the new super thin and ultra-light LMini Series.
The LMini Series boasts the green energy-saving technology expected from LAMPRO, with minimum average power consumption at 80W per square metre, but the extreme visual quality and size are the highlights of this product.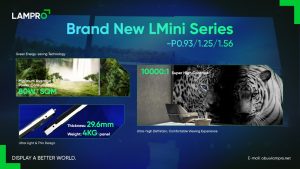 Powered by the intelligent and integrated modules LAMPRO is known for, the LMini series, available in 0.93, 1.25 and 1.56mm pixel pitch, comes in at 2.96mm thickness and weighs just 4 kg per panel. For a superlatively comfortable viewing experience, the LMini Series features 10,000:1 super high contrast for an ultra-high-definition image.
In the final segment of the brand upgrade talk, LAMPRO addressed its channel partners with the development strategy for the company and the channel itself. LAMPRO detailed the plan for strategic customer development and distribution channel co-building to structure the business going forward.
Upon the existing strong foundations of a competitive and flexible pricing system, diverse product selection, and global localisation service offering prompt online and on-site response, combined with further marketing opportunities, channel partners were left with a lasting and confident impression of LAMPRO's intention to Display A Better World.