Kramer Electronics who stepped onto the InfoComm India 2022 show floor in the last minute, stood to its pole position at the event, demonstrating a broad range of solution that create a game changing dynamic.
The range of solutions included VW Series video wall processors, the regular matrix switchers, VP Series presentation scaler systems, control systems, and audio solutions, besides its popular collaboration devices and quicklaunch meeting solution.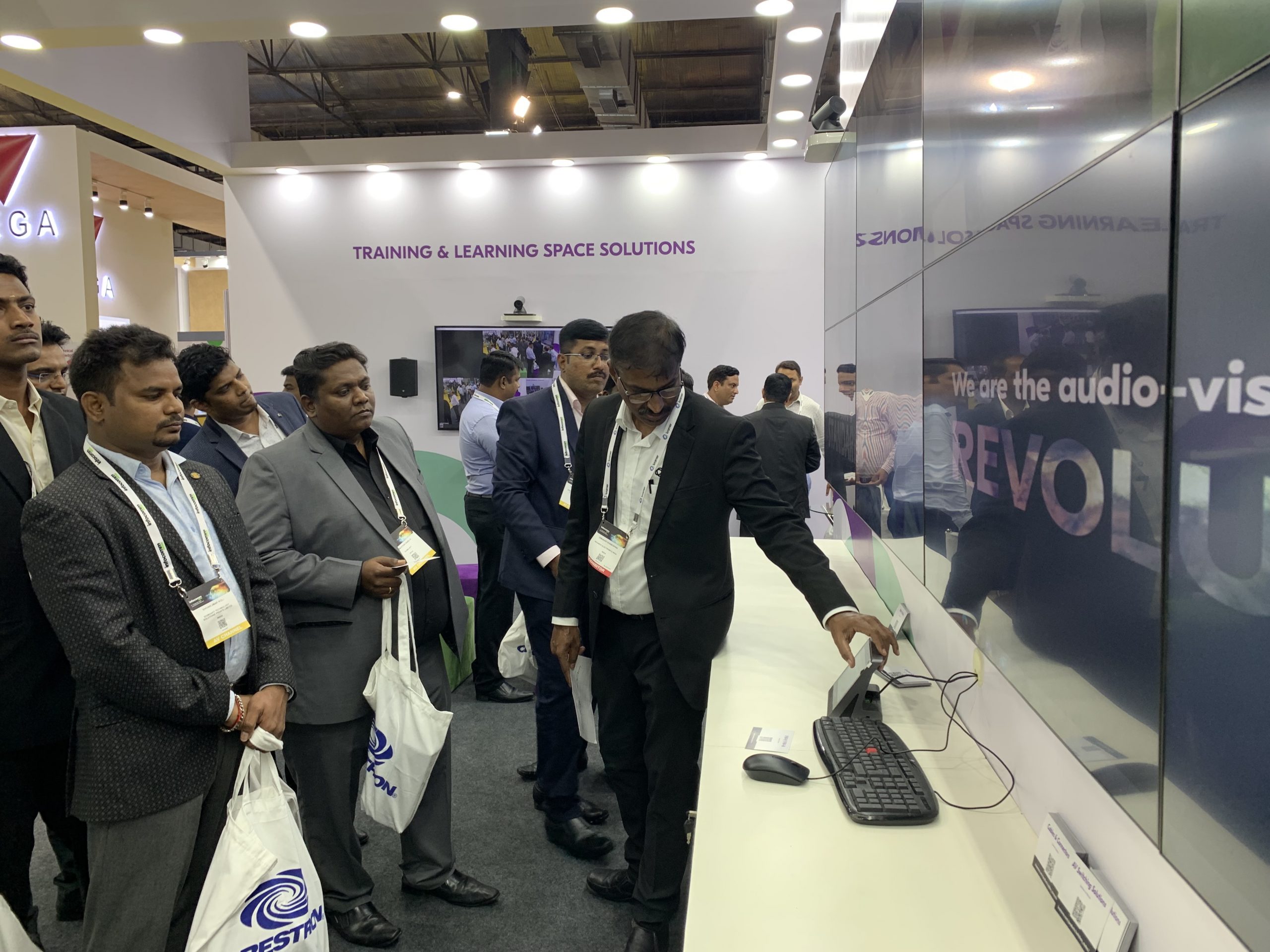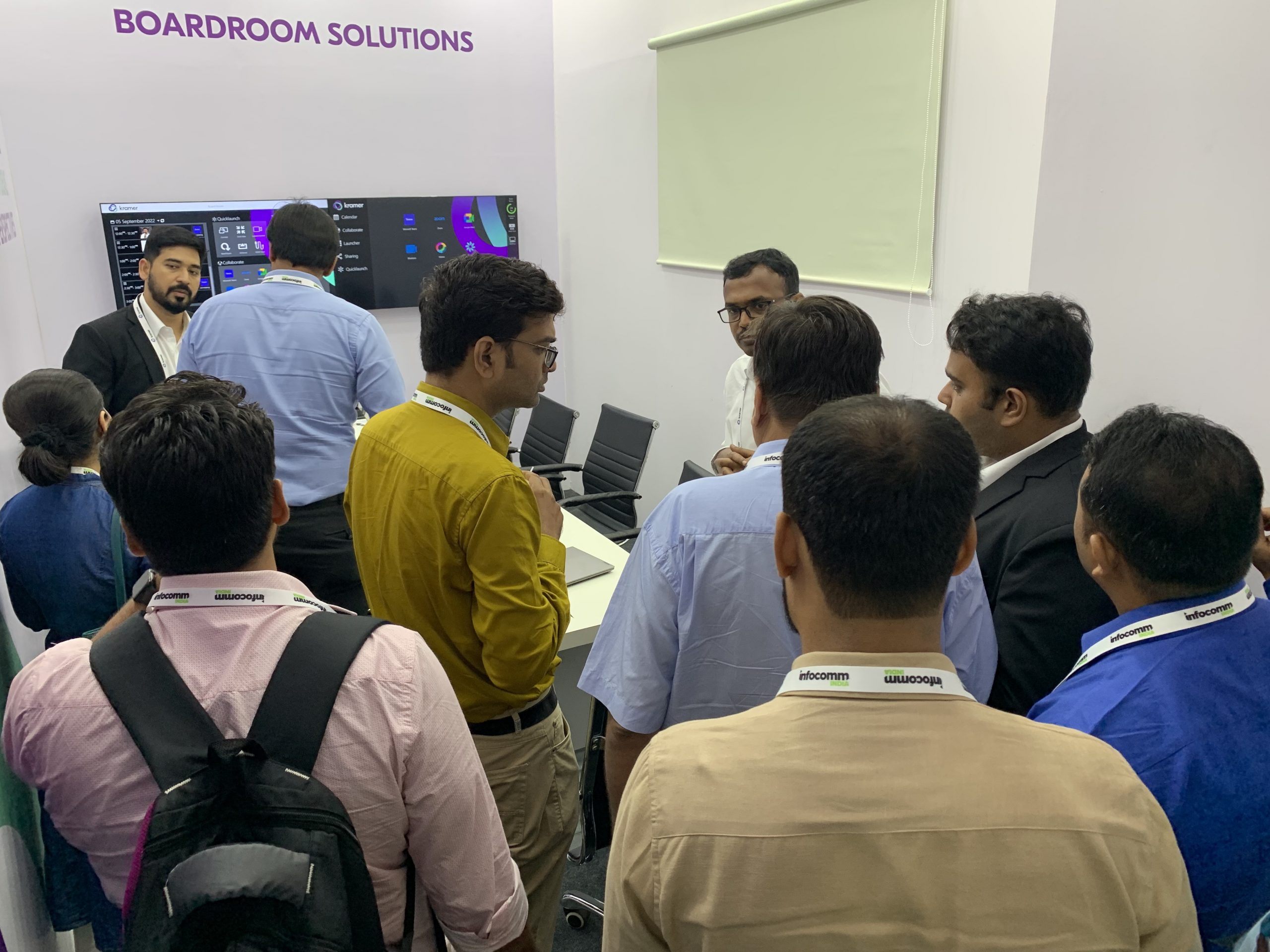 The video wall processors on show included VW-9 and 16. The VW-9 processor is designed for video walls measuring 3×3 dimensions and facilitating as many as 10 outputs- thus, making it flexible and ideal for wall shapes comprising up to 10 identical displays, such as 5X2 configurations. The VW-16, on the other hand, will feature as many as 16 outputs, and will power huge walls.
Kramer Collaboration Devices are designed for varied spaces from small huddle rooms up to large boardrooms, classrooms, and auditoriums. They ensure all participants, whether in the room or connecting remotely, consistently enjoy superb interactions, with an immersive audio and video experience.
Integral to Kramer's end-to-end Pro AV solution for Enterprise meeting spaces, these devices can easily be combined with Kramer's in-room A/V signal management and control products, helping make all interactions more effective and inclusive.
Coming with a large basket of offerings within it, the Collaboration Devices include:
K-Bar- compact, all-in-one AV communication bar, saving space and cable clutter in small rooms
K-Speak- Omnidirectional speaker phone for crystal clear sound for additional coverage
K-180Mini- Smart, panoramic, 4k wall-mount camera that keeps everyone in view in small and huddle rooms
K-CamHD- professional HD conference room PTZ camera for versatile video capture
K-Cam4K- ultra HD, and 4K PTZ camera for premium video clarity in large meeting rooms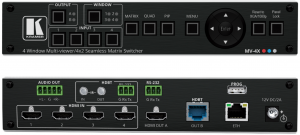 The 4K Matrix Switcher MV−4X is a high−performance HDMI matrix switcher with integrated scaling technology and multi−windowing options. It is an ideal solution for monitoring or displaying multiple sources simultaneously for use in control rooms, conference rooms or classrooms. Video resolutions up to 4K@60Hz 4:4:4 and LPCM audio up to 7.1 channels and 192kHz are supported on both inputs and outputs.
In addition, MV−4X is fully compatible with the HDCP 1.x and 2.3 standards. The product offers 2 outputs – HDMI and HDBT.
Users can choose to display any of the four HDMI sources individually, in full screen, or in a variety of multi−window modes that include quad mode, PiP, and PoP on both outputs. Alternatively, MV−4X offers a seamless (zero−time video cut) 4×2 matrix switcher option.
In the midst of the wide array of meeting room solutions, is the unique Quicklaunch solution which is a simple and secure meeting room application that transforms a Windows 10 PC into a Powerful One Touch Meeting Space.
Similar are the array of Control Systems with a slew of automation control pads aimed at Enterprise AV management applications.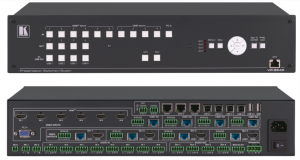 The VP−554X is a high−performance presentation scaler/switcher with four pairs of independent and scaled outputs. It includes multiple HDMI and HDBaseT inputs – supporting resolutions up to 4K – as well as a legacy VGA input, and each of the 4 outputs is mirrored on both HDMI and HDBT.
VP−554X supports embedded and balanced analog stereo audio, up to 2 microphone inputs, DSP audio features and a built−in stereo power amplifier. It also includes a built−in Ethernet switch and supports legacy RS−232, and IR, Ethernet and RS−232 tunneling over HDBT.