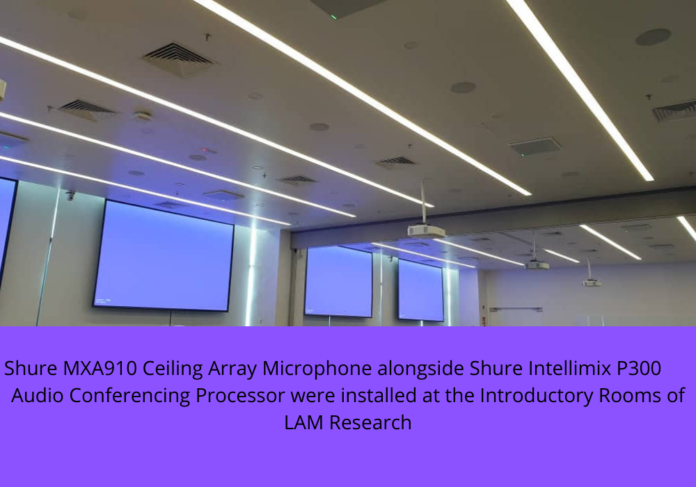 Based in Malaysia, Juta Trading stamps its mark in the market as a "Total Solutions" service
provider by incorporating consultation, supply, installation, and integration of AV Systems. By combining state-of-the-art technology and passion of its employees to strive towards excellence, the company has maintained a solid and long-standing relationship with their customers for the past 25 years.
Last year the company pitched for a project in Bayan Lepas, Penang, Malaysia, for Lam Research. Lam Research designs and builds products for semiconductor manufacturing, including equipment for thin deposition, plasma etch, photoresist strip and water cleaning processes. Lam Research wanted a better audio system for their conferencing and training needs.
Shure has been a trusted solution by Juta Trading. Therefore, the company approached Concept Associates (KL) Sdn Bhd, Shure's Distributor for Malaysia, for advice. Concept Associates recommended Shure Conferencing Solution to Lam Research highlighting its advantages. Upon acceptance of the proposal, Juta Trading carried out the project installation and integration.
In the introductory rooms, Juta Trading installed Shure MXA910 Ceiling Array Microphone alongside Shure Intellimix P300 Audio Conferencing Processor.
The Shure QLX-D Digital Wireless System was installed in the meeting, board, and training rooms. The robust RF performance lets the user step up to an all-around higher class of audio while protecting the signal at every level.
The Shure MXA910 Ceiling Array Microphone & Shure Intellimix P300 Audio Conferencing Processor eliminates equipment clutter, leaving more room for clarity. Instead of focusing on a microphone's position, users can concentrate on compelling communication. With Steerable Coverage and onboard IntelliMix digital signal processing, the system can capture every voice. Patent-pending Autofocus technology fine-tunes the audio pickup in real-time for consistent sound even if participants lean back or stand up. Intuitive, programming-free LED mute sync functionality to assist the user with leading third-party software codecs including Zoom Rooms, Microsoft Teams and Skype for Business when connected to the IntelliMix P300 Audio Conferencing Processor or ANIUSB-MATRIX Audio Network Interface. Onboard IntelliMix DSP allows multiple MXA910s to effectively cover large meeting spaces with ease, making it ideal for applications that include voice lift or camera tracking requirements. Shure Audio Encryption can be enabled when used with the IntelliMix P300 Audio Conferencing Processor or Shure Audio Network Interfaces, which utilizes AES-256 encryption to protect confidential content.
The QLX-D, on the other hand, offers 24-bit digital audio, and the wide frequency response captures the audio as clearly and accurately as it is produced. The rechargeable lithium-ion battery option extends performance, simplifies workflow and saves money versus replaceable alkaline batteries. Confidentiality is also ensured via AES-256 advanced encryption that generates a randomized key for each use.