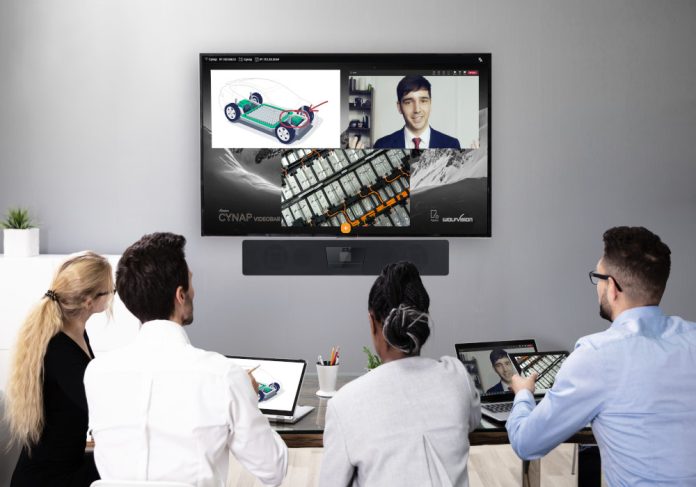 WolfVision, a worldwide manufacturer of wireless presentation, web conferencing, and collaboration technology solutions, announces the launch of its new Cynap Videobar, plus additional system enhancements, to be unveiled at the forthcoming ISE 2023 show in Barcelona.
The new WolfVision Cynap Videobar web conferencing and collaboration system for meeting rooms will be on show at ISE 2023. It combines award-winning Cynap BYOD wireless presentation technology with a 4K AI camera, beamforming array microphone, and built-in high-quality speakers from leading German audio specialist Fohhn. Exceptionally natural speech is reproduced throughout the room, and extended low-frequency reproduction ensures outstanding sound quality when playing videos or music. A unique software tool is also available to optimise the sound for individual room acoustics. This high-performance, all-in-one meeting room solution offers plug-and-play integration and is suitable for up to 10 people in small or medium-sized hybrid meeting rooms and huddle spaces.
Wireless screen mirroring functionality enables up to four windows to be displayed onscreen, from any laptop, smartphone, or tablet, without requiring apps, dongles or extra software. Multi-source onscreen content is also shared easily with remote-located colleagues when running web meetings. The built-in BYOM web conferencing feature enables users to connect wirelessly to the Cynap Videobar and run a hybrid meeting using any web conferencing service directly from a laptop. The new system also features whiteboard and annotation tools, plus a room booking module. Cloud-based remote management tools are also included, making it straightforward for administrators to handle large numbers of units across multiple locations.
BYOM web meeting functionality added to Cynap family systems
In addition to the existing multi-platform web conferencing feature, it's now possible to toggle to 'BYOM Mode' on a laptop running WolfVision's vSolution App to connect wirelessly to a Cynap, plus the connected camera, microphone, and speaker peripherals already installed in the meeting room. This BYOM feature is available for models Cynap Pure and above, enabling users to host a web meeting using any web conferencing service directly from their own laptop. All meeting room attendees can also share content in the web conference from any device, providing a consistent, collaborative hybrid working and learning experience for both in-room and remote participants.
Dual Screen Content Management feature for Cynap Pro
The new Dual Screen Content Management function enables the connection of a control and preview monitor to the third HDMI Out port of a Cynap Pro. Presenters are now able to prepare and preview multi-source content in advance before dragging and dropping it onto either the left or right-hand main display screens. The new feature allows up to 8 wireless BYOD connections to be made, providing presenters with additional possibilities when selecting content to be displayed on the screens.
Cloud-based remote management software now available
vSolution Link Pro software enables remote management of WolfVision systems. Already available for Windows Server, Windows desktop, and macOS, vSolution Link Pro is also now available for installation on a cloud-based virtual server (Microsoft Azure or AWS). Securely accessible from any location, the new software tools are particularly useful where large numbers of WolfVision Cynap systems need to be managed remotely across multiple locations.
WolfVision can be found at Booth 3N600.