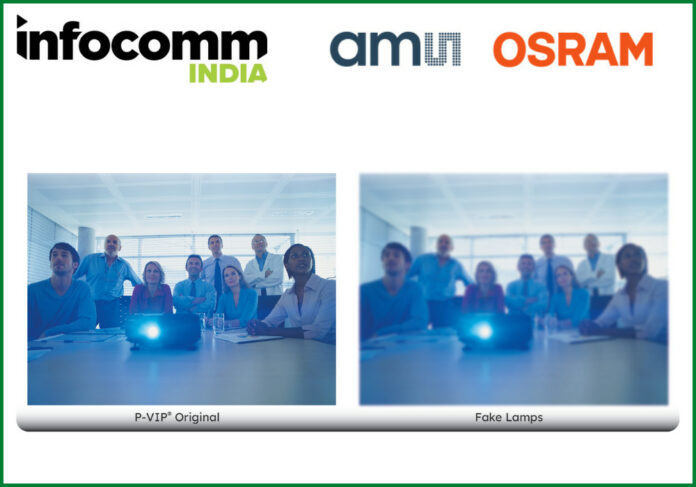 OSRAM will showcase its P-VIP Projector Lamps at InfoComm India, held from 5 – 7 September in Mumbai, India.
As a best-selling projector lamp, P-VIP projector lamps are impacted by many counterfeit lamps in market.
Counterfeit lamps have up to 30% less initial brightness compared to P-VIP lamps
We analyzed many counterfeit lamps and have found that the gap between the initial luminance of counterfeits and original P-VIP projector lamps is up to 30% in the worst situations. With these replacement counterfeit lamps, you may find a blurred subtitle while watching a movie or have difficulty in seeing the projected presentation slides.
Electrode gap and projection brightness are strongly related
Smaller electrode gap yields higher brightness. The test result shows that the electrode gap of counterfeit lamps is larger than OSRAM lamps by 30% on average, which undoubtedly indicates a much lower brightness from counterfeit lamps.
Counterfeit lamps typically have inconsistent light optics across the screen
Uniform brightness distribution all over the screen is also a key to the visual feeling. Besides the projector lamp itself, ams OSRAM also takes great care of how the lamp perfectly integrates into each projector system to ensure uniform and stable optical output on the screen. This optimization of optics is what the counterfeit lamps cannot replicate.
Counterfeit lamps pale in comparison to P-VIP lamps
We produce P-VIP lamp burners in our Berlin factory. The burner tube is made of high purity quartz glass, which is capable of stable operation using high-pressure mercury up to 300 kPa for a long time.
For proper functionality, we carefully evaluate the reliability of raw materials in the condition of operation and storage. In particular, special ceramic rings and basing cement were chosen for their ability to withstand high temperatures and humidity.
To know more visit Osram at Booth B74.