InfoComm India – the premier Professional AudioVisual and Integrated Experience Solutions event takes place on 18 – 20 November 2020. This year, InfoComm India 2020 is delivered right into your home with a brand new powerful, fully digital platform – InfoComm India GoVIRTUAL. InfoComm India GoVIRTUAL empowers you with multiple intelligent, interactive and collaborative tools to do everything you would at the show – just like you are visiting InfoComm India in person!
At InfoComm India 2020, you can experience the latest Pro-AV technologies and solutions from the biggest leading brands, gain strategic insights and practical know-hows from top industry experts, and connect and collaborate with the right industry partners.
At InfoComm India GoVIRTUAL, you get to experience the first-of-its-kind, ground-breaking tech-enabled capabilities that allow you to:
• Meet exhibitors at their live booths and engage them in two-way real-time conversations – in person.
• Watch over 170 live product demos in full screen via livestreaming, ask questions and interact with presenters – all in real time.
• Discover the latest Pro-AV products and technology offerings from 100+ leading exhibitors via livestreaming and videos.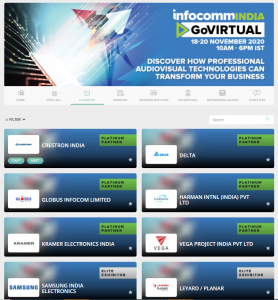 MEET EXHIBITORS AT THEIR LIVE BOOTHS, IN PERSON
Over the 3-day show, from 10am to 5pm IST, you can visit exhibitors at their live booths, meet them face-to-face and have a discussion in person.
WATCH LIVE VIRTUAL PRODUCT DEMOS, IN REAL TIME
There are over 170 live product demo sessions are lined up over the 3 show days that you can explore and watch in full screen via livestreaming, as if you are right there at the exhibition. While watching the live demo, you can ask questions and engage in two-way real-time communication with the presenter, and even continue the conversation with the exhibitor in a small-group or one-on-one private meeting in the Networking Lounge.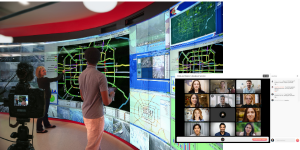 DISCOVER THE LATEST PRO-AV PRODUCTS AND TECHNOLOGY OFFERINGS, 24/7
Discover the latest cutting-edge AV products and technologies from over 100 global leading brands and solution providers, anytime and anywhere – via GoVIRTUAL.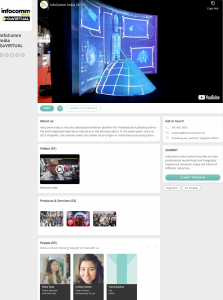 Search for the most relevant solution providers based on the needs of your industry and product solutions. You can explore a diverse range of productions and solutions with multi-media displays including videos, livestreaming, product brochures and more. You can also share your contact details with exhibitors for them to get in touch with you, chat with them and even schedule meetings with exhibitors anytime during show days.
There's no better time than now to explore how to transform and future-proof your business with AV and Integrated Experience Solutions at InfoComm India from wherever you are.