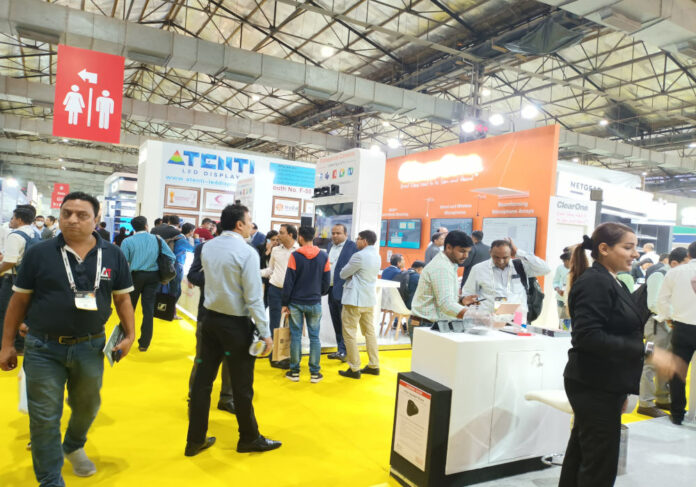 The 2022 edition of InfoComm India – happening as it did, physically, after a gap of two years – took off on Monday, stakes getting rejuvenated with the three 'R's of the event's theme and punchline 'reconnect, refresh and revitalize.'
The mild wafts of apprehension and uncertainty that tended to rant the air got dispelled by the afternoon, with booths and aisles effusing the life and vibrancy that the show has been known for from the pre-COVID times. The show appeared pretty much set to regain the charm it's been holding.
InfoComm India is back. That's the biggest news across the rank and file in Indian AV.
Those few lines summarizes a whole big journey, filled with hope and uncertainty, expectations and deterrents, aspirations and ambiguity, and finally, the satisfaction of a successful congregation of the community.
The story is nothing new, but still, it's anew, afresh; and filled with excitement- of meeting and greeting one another. Watching and wowing at things on the show; and acknowledging, nay, appreciating the stakeholders' resoluteness. The visitor flow is the icing on the cake.
A total of 160 exhibitor booths, with quite a few new entrants, happily juxtaposing the seasoned regulars, and some sporting their innovative solutions like Rahi Systems; some pitching in with the 'Make in India' vibe like Tacodi Electronics, Logic Displays and Aero Digital; some marking new dynamics of product solutions via new global connects like NTeck Systems; some exploring the Indian potential like ZeeVee and Cyviz, and some exploring newer talents for their competency cause from the show floor itself like Vega Global.
The story is certainly more intense than it appeared on the show floor, with the spirit of the exhibition soaring high.
There is still time to visit the show if you have not done so yet. The show ends on 7th September 2022.